To Celebrate Mother's Day, Here's 17 Tweets That Show What Motherhood Is Really Like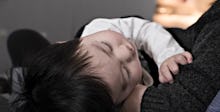 With Mother's Day coming up Sunday, now is a great time to reflect on what being a mom actually means — and we don't mean with a sappy greeting card. Real motherhood is messy and weird and hard. Here are 17 tweets that capture what motherhood is really like:
1. You don't always know what to do... but that's what the internet is for.
2. Eating something without sharing it is a true victory.
3. Especially if it's candy.
4. You get a front-row seat to your child's questionable fashion choices.
5. You're no stranger to bodily fluids.
6. Like, seriously.
7. Also, be prepared to find food all over your body.
8. Motherhood also means being trapped in one position — so you don't wake the baby.
9. Mess is probably just part of your home decor at this point
10. But being a mom helps you discover abilities you never knew you had.
11. Your real job might start to feel like a break.
12. Because your home life is full of drama.
13. You've probably learned that kids are bizarrely resistant to sleep.
14. And your vocabulary may feel somewhat smaller.
15. You have to come to terms with the fact that your child may not be a prodigy.
16. But the small triumphs make it all worthwhile.
17. Also the cuddles.