6 Classics to Add to the All-Male Book Club's Reading List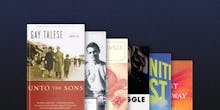 Impact
By
Claire Lampen & Marie Solis
Straight white male authors are finally getting the recognition they have been systematically denied for centuries.
At the Man Book Club, a safe space for adult boys to be adult boys, 16 men indulge in works written for men, by men, the New York Times reported. In its ninth year, this meeting of man minds gives members the opportunity to voice their thoughts and feelings on some of the literary canon's finest works, which — let's face it — is a rarity for males.
In an interview with the New York Times, 53-year-old Andrew McCullough said, "I was always a little jealous of my wife's book clubs. Now our wives are jealous of us." He went on to explain, "We do not read so-called chick lit. The main character cannot be a woman."
The men of the International Ultra Manly Book Club, which is somehow a different book club for men than this one, devised a ranking system to evaluate a book's steeliness. Before risking opening a novel that could pass the literary equivalent of the Bechdel test, its members assign each selection between one and five hand grenades.
Because we'd never want anyone to suffer a frivolous beach read, here are our recommendations for books that will put "the penis" in "the pen is mightier":
The Sun Also Rises by Ernest Hemingway
Points earned for:
Points lost for:
Moby-Dick by Herman Melville
Points earned for:
Points lost for:
On the Road by Jack Kerouac
Points earned for:
Points lost for:
My Struggle by Karl Ove Knausgaard
Points earned for:
Points lost for:
Infinite Jest by David Foster Wallace
Points earned for:
Points lost for:
Unto the Sons by Gay Talese
Points earned for:
Points lost for: