Pregnant Woman Says She Was Fired After Being Told 'Pregnancy Is Not Part of the Uniform'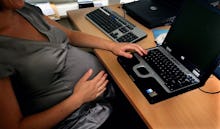 A woman has filed a lawsuit against Procter and Gamble, alleging that the company fired her four months into her pregnancy after failing to make minor adjustments to accommodate her condition.
Tiffany Kantrowitz was initially hired to work at the Fifth Avenue location of Dolce and Gabbana, a P&G-owned brand, as a makeup salesperson. Kantrowitz believed that the position represented a "big break for me, a company that would develop me and I could move up with," she told ThinkProgress.
Kantrowitz says she mentioned to a manager that she was interested in becoming pregnant one day, to which she alleges the manager responded, "Pregnancy is not part of the uniform." Kantrowitz did, in fact, become pregnant toward the end of 2014.
Despite being determined not to let her symptoms, like the chronic headaches and nausea she suffered in her first trimester, affect her work, Kantrowitz told ThinkProgress that her managers issued her a written warning for sitting down on a stool while battling dizziness during an interaction with a customer.
HR representatives eventually intervened and told Kantrowitz she was permitted to take 5-to-10-minute breaks in difficult-to-access break rooms on a separate floor from where she was working, which she says made it more difficult to hit her sales quotas.
The company also insisted that any break time she took come out of her 12 weeks of paid family leave.
Four months into her pregnancy, Kantrowitz was fired. In a statement, the company said that its discovery of "tester products" among her possessions led to the decision.
"Ms. Kantrowitz was terminated for cause following an internal investigation," a spokesperson for P&G told ThinkProgress, adding, "P&G has been, and continues to be widely respected for our commitment to diversity and inclusion and the many programs we have in place to support working mothers."
In her lawsuit, Kantrowitz claims that other employees frequently tested out products without consequence, and that she was unfairly singled out "in retaliation for [her] insistence on her right to a reasonable accommodation for her pregnancy."
According to a Pew Research Center study, more women than ever are working during pregnancy, and 82% of respondents said that they were willing to work until within a month of giving birth. However, many states still do not offer pregnant women adequate protection against discrimination — leaving them vulnerable to similar treatment.
"I'm still kind of surprised that it happened to me," Kantrowitz said. "It's disappointing in our day and age that people would be unsympathetic to a pregnant woman in the workplace."