Spring Fashion Campaigns Were the Most Racially Diverse on Record — But There's a Catch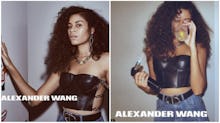 Over just the past few months, there's been an uptick in models who break the norm landing huge campaigns. Caitlyn Jenner modeled for H&M. Beyoncé cast a model with muscular dystrophy for her new merchandise. But while pop culture and mainstream retailers seem to be getting the hint, unfortunately, high fashion is lagging behind. 
According to a new report from the website theFashion Spot, spring ad campaigns were the most racially diverse on record — but there's a catch. 
Read more: The Latest "Diversity" Numbers Are In — Here's How White Fashion Week Was
Firstly, there was a jump in the number of women of color in print ad campaigns. After analyzing 236 fashion advertisements and campaigns, the publication found that although 78.2% of models were still white, that's a 6.5% decrease from campaigns just months earlier, in fall 2015. In total, 8.2% of models cast in fashion advertisements and campaigns were black, with Asian models just 4% and Latina 3.8%. 
Those numbers may seem small, but it is a significant jump compared to last season, with black and Latina models cast in the spring at approximately double the rate compared to the fall, according to the report. 
Overall, 21.8% of models cast in campaigns were models of color, and while that lags behind runways, which had 24.8% non-white models, it's still progress in an industry that's slow to do so. 
Just like the runways from this most recent fashion week, the most diverse campaigns overall came from American designers, including Alexander Wang's #WangSquad campaign, and Calvin Klein's #MyCalvins, which cast rappers Kendrick Lamar and Fetty Wap. There was also Marc Jacobs' spring/summer campaign, which cast people of a variety of ages, races, gender identities and sizes. 
"Similar to our findings for Fashion Week this past February, it seems that American designers are leading the charge," Fashion Spot managing editor Jennifer Davidson said in an email. 
So what's the catch? There's still an issue with plus size and curve models (who are smaller than a size 12, but may be larger than a model's average of a size 2) getting cast for campaigns and advertisements. 
Out of a total of 422 model appearances, plus size women were cast just six (six!) times, and they were all white, plus-size models. While five of the appearances were for strictly plus size retailers (like Lane Bryant), there was one actually size inclusive brand: Aerie, which cast the curve model, Barbara Ferreira. 
And as far as transgender modeling goes, with the exception of Caitlyn Jenner for H&M, a major retailer that is not typically looped into the high fashion conversation, not a single transgender person was cast in an ad campaign. In fall 2015, three were cast: Andreja Pejic for Kenneth Cole, and Valentijn De Hingh and Hari Nef for an & Other Stories campaign. 
"Despite the progress we're seeing in terms of racial diversity, we still have a long way to go before we can say that fashion is totally inclusive," Davidson said. "More brands need to expand their beauty standards and follow the lead of designers like Marc Jacobs, who chose models for his campaign who personify 'fashion through their individuality' and 'embody and celebrate the spirit and beauty of equality.'" 
So while pop culture and more mainstream retailers are in full endorsement of women like Jenner, and TV shows like Transparent and movies like Tangerine, fashion has yet to fully embrace transgender models — especially trans male models. And while women like Melissa McCarthy and Jennifer Hudson flourish in Hollywood and on Broadway, plus size models are still relegated to entirely plus size campaigns. So with pop culture ahead of the curve, it's time for fashion to catch up.