George Clooney and Julia Roberts Hitch a Ride in Gwen Stefani's Carpool Karaoke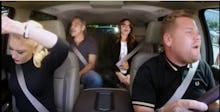 Get the five stories that will challenge you to rethink the world by signing up for MicCheck Daily.
Once again, James Corden is having trouble commuting to work, and instead of finally purchasing a GPS, he decided to take another artist for a ride in The Late Late Show's Carpool Karaoke series. This time, Gwen Stefani rode shotgun, and the duo went through a nostalgic trip through some of her early No Doubt work, as well as explaining some of the fast-paced lyrics from "The Sweet Escape" to Corden. He nailed it, in due time. 
Eventually, though, the duo hit the "HOV 4" lane, which means they'd need to add two more passengers in the car to keep the ride going. Thankfully, Corden called up a friend who agreed — and lo and behold — George Clooney takes a seat in the back, followed by Money Monster co-star Julia Roberts soon after. 
While Clooney and Roberts might not have the vocal capacity of Stefani, they sure put in the effort for their rendition of "Hollaback Girl." Really, Clooney went bananas for "B-A-N-A-N-A-S." 
As for the inspiration to Stefani's "Hollaback Girl," Clooney had some ideas. "If some guys are on a construction site, and they're yelling at a girl, she's not going to turn back, she's not that kind of a girl." Stefani said he was close, but wouldn't reveal the exact details of her "hollaback" muse. "This shit is bananas," Clooney replies. 
Check out the full Carpool Karaoke segment below: 
Read more: James Corden's "Carpool Karaoke" Is the Best Thing About Late Night Right Now