Stephen Colbert Gives Ted Cruz a 'Hunger Games' Goodbye From the 2016 Presidential Race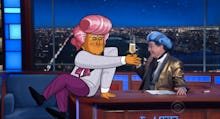 No presidential race drop out is official without a sendoff from late night host Stephen Colbert, Hunger Games style. During Wednesday night's "Hungry For Power Games" segment on Late Night with Stephen Colbert, the comedian and host quickly transformed himself into the Caesar Flickerman of United States politics for one last (well, maybe not the last) roasting of Texas Sen. Ted Cruz and Ohio Gov. John Kasich. 
First, it was Kasich's turn: After the trailing GOP pick dropped out after attempting to use the Force in a last-ditch effort to appeal to voters, he had it coming pretty easily. 
"Who are we talking about again? Kasich, yes," Colbert began. "Let's take a look back at all the triumphs of John Kasich's campaign. There was Ohio ... and he's gone. Sadly, even in losing, tribute Kasich has lost."
Colbert then held nothing back against Cruz, lambasting the senator for being compared to "Lucifer in the flesh" and punching his wife in the face after announcing he would be dropping out. 
"Last night's big loser was Texas senator and half-kissed frog prince Ted Cruz, who joined the ranks of the fallen," Colbert continued. "You have to Ted credit, he went down swinging: even when hugging his wife. Apparently he's dropping out of the race to spend more time elbowing his family."
Colbert also noted Carly Fiorina's bid for Vice President as Cruz's running mate was shorter than Shark Week before a cartoon Trump came out to give the last words: "Lyin' Ted is lyin' in the ground. He ran a tough race, but he was really bad at it. And his father killed J.F.K. Pathetic."
Check out the skit here.
Read more: John Kasich Tried Using the Force Just Before Being Defeated by the Empire (Donald Trump)