The RNC's Statement on Cinco de Mayo is the Peak of Hypocrisy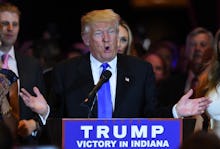 On Thursday, to coincide with Cinco de Mayo — a Mexican holiday that goes largely uncelebrated in the Mexico but is often co-opted by people in the United States (in usually offensive ways, no less) — the Republican National Convention released a statement to "honor" the way Mexican-Americans have "enriched" the United States. The statement came just two days after the RNC Chairman Reince Priebus threw his support behind GOP presidential frontrunner Donald Trump, whose comments about Mexicans and Mexican immigrants have been anything but presidential, on Tuesday.
"We celebrate Cinco de Mayo to honor the many ways Mexican-Americans have for generations enriched our country's culture," wrote Priebus and co-chair Sharon Day on the committee's website. "With a commitment to faith, family, and the belief that hard work will help you achieve the American Dream, Mexican-Americans have strengthened our nation. And we express our deep gratitude to those who are proudly serving in our armed forces and defending our freedoms."
Read more: Mexican-Americans Want You to Know You're Celebrating Cinco de Mayo Completely Wrong
Trump has made too many controversial comments to count. But one of the mantra's of his presidential run, essentially a campaign slogan in its own right, is his call for Mexico to "build a wall" — and pay for it themselves. 
While not everyone in the GOP is on the same page as Trump, the party's frontrunner only represents a more extreme version of racist remarks Republican politicians have made toward Hispanic populations since, well, forever. For this reason, the Republican National Committee's statement on Cinco de Mayo should raise a few eyebrows. 
Republicans have notoriously tried to thwart Mexican-Americans' access to the revered American Dream. At a February GOP debate, Texas Sen. Ted Cruz touted an 11-page single-spaced document he wrote outlining how he would deport the United States' 11.3 million undocumented immigrants, many of whom are of Mexican origin. 
In August, former presidential candidate Bobby Jindal likened immigrants who don't adopt United States culture to invaders. "Immigration without assimilation is invasion," Jindal said. "And, to return to Trump, the presumptive Republican presidential nominee said most Mexicans coming to the U.S. are rapists bringing drugs and crime with them.
Other Republicans have simultaneously called Hispanic populations "lazy" in the same breath they use to accuse them of taking American jobs. 
But for the RNC, on Thursday, selective amnesia won. "This festive day is known throughout the country because of the influence Mexican-Americans have had on our culture," wrote Day. "Today we reflect on the freedoms we are privileged to enjoy, and I hope Cinco de Mayo will serve as a reminder for us all to keep working to build a future in which the opportunity and prosperity are preserved for our children."