Hillary Clinton's Email Woes Aren't Going Away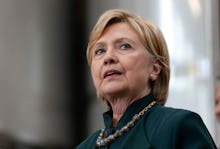 To hear many Democrats tell it, Republicans handed Hillary Clinton a silver-plated gift on Tuesday when they crowned bombastic billionaire Donald Trump their presumptive nominee, despite many polls indicating that the likely Democratic nominee would easily defeat him in the fall.
But new developments in the ongoing controversy over Clinton's use of a private email server as secretary of state point to her potential vulnerabilities heading into what's expected to be brutal general election campaign.
A federal judge on Wednesday suggested that Clinton may have to testify under oath in a lawsuit related to the email imbroglio, while a Romanian hacker's assertion that he hacked into her email system undermined the Clinton camp's claim that her account was never compromised.
Read more: 1 Chart Shows Why Democrats Should Be Very Nervous About November
A Clinton deposition? The Democratic frontrunner's potential courtroom testimony would come in a lawsuit brought by the conservative legal group Judicial Watch, which is suing the State Department to obtain records from Clinton's tenure as the nation's chief diplomat.
U.S. District Court Judge Emmet G. Sullivan granted Judicial Watch's request to have key Clinton aides — including her former chief of staff Cheryl Mills and Huma Abedin — testify in the case, the Associated Press reported. Depending on information provided in the Clinton aides' testimony, Sullivan said, sworn testimony from Clinton herself "may be necessary."
The Clinton aides' testimony will take place over the next eight weeks, the AP reported.
The Judicial Watch lawsuit is separate from the ongoing FBI probe into Clinton's email setup, for which Attorney General Loretta Lynch said last week that there is no deadline.
Hacking claims: Meanwhile, the Romanian hacker "Guccifer" told Fox News in an interview that he had successfully hacked into Clinton's account three years ago, shortly after she left the State Department.
According to Guccifer, whose real name is Marcel Lehel Lazar, he started by breaking into the email account of Clinton associate Sidney Blumenthal in March 2013, then hacked Clinton's server.
"I was not paying attention. For me, it was not like the Hillary Clinton server, it was like an email server she and others were using with political voting stuff," Guccifer told Fox, saying he hacked into the server "like twice."
Guccifer's involvement in the Clinton email controversy isn't new. In March 2013, Gawker reported on the contents of Blumenthal's emails to Clinton, touching on topics from Libya to domestic politics. But his claim that he hacked into Clinton's private email system adds a new twist to the case, particularly given her campaign's contentions that there's "no evidence there was ever a breach" and that no "unauthorized intrusion" ever occurred.
At this juncture, however, Guccifer's claims have not been proven, and Clinton allies are likely to point to his federal hacking indictment to cast doubt on his credibility and motivations for coming forward.
Manna for Trump: While continued headlines about the email mess may prove nettlesome for Clinton, they provide fodder for Trump, who's signaled that he'll aggressively attack her on the issue.
"Honestly, she shouldn't be allowed to run," Trump said at an October campaign rally, per CNN. "If that were a Republican that did what she did with the emails they would have been in jail 12 months ago. Clink!"
The GOP standard-bearer has also promised that his administration would "look very seriously" at his rival's "email disaster."
A steady stream of Clinton email coverage — complete with sworn depositions of close aides and possibly the candidate herself — may also play into Trump's newly coined moniker for Clinton: "Crooked Hillary."
While Trump's unpopularity ratings are unprecedented for a modern general election candidate, Clinton's aren't much better. Expect Trump to leap at any chance to close the gap.
Though Clinton is no stranger to Republican attacks, the onslaught she's likely to face from Trump may test her as never before. On the email controversy, he's certain to needle her in ways that Democratic primary rival Bernie Sanders has not.
"The American people are sick and tired of hearing about your damn emails!" Sanders famously thundered at a Democratic debate in October.
Don't expect a repeat when Trump and Clinton face off at their first debate in September.