A Florida High School Just Canceled a Girls' Football Game to Keep Them "Safe"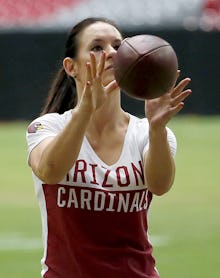 Principal Dan Frank at Jupiter High School in Florida canceled its annual powder puff girls' tackle football game. His reason for canceling the nearly 50-year-old tradition? The pads and helmets couldn't keep the girls "safe" — even though they're the same pads and helmets worn by members of the boys' team. 
In a phone interview, Palm Beach School District media relations specialist Kathy Burstein said that while it might have come as a shock to students, the decision to cancel the game was years in the making. "It was the principal's decision," she said. "They've been reviewing it for years and he decided this year to make the change." 
In a press statement, Frank elaborated on the decision. "I felt it was necessary to change the annual powder puff football game from a tackle football game to a flag football game... The narrow window of time for student preparation and practice, and the limited availability of properly fitting safety equipment would put our students at risk," he said.
Since Frank canceled the game, which has been described as the country's only tackle powder puff football game, the community has responded with outrage. 
"It is almost like a Friday night in Texas. Everyone comes out to watch the game," Marcy Murphy, a special-needs job coach, told the Associated Press. "That is why you see the uproar. That's what this game means to this town."
But after weeks of controversy, the administration has held firm and only countered with suggestions for alternative events, such as a kickball game where players have to bob for apples at second base. 
The tackle powder puff game "makes our town special. It is a once in a lifetime or maybe twice in a lifetime opportunity," 17-year-old student Haley Osborne told the Associated Press, expressing disappointment that she's missing her last chance to play. 
The girls' game was known for raising thousands of dollars and packing the stands, unlike the regular boys' team, the Associated Press reported.
The students are hardly alone in their fight to be included in one of America's most sexist sports cultures. Philadelphia student Caroline Pla spent several years fighting for her right to play football at her Catholic school, even gaining support from feminist celebrities such as Ellen DeGeneres. 
When women do successfully fight for acceptance in the sports world, there's almost always backlash. When the Arizona Cardinals hired the first female NFL coach, Jen Welter, in the part-time and relatively low-level position of preseason intern, both Welter and the team were bombarded with sexist harassment, as well as claims women "don't belong" in football. 
Former collegiate athlete Katie Hnida, the University of Colorado Boulder's football team's first female place kicker, also faced an onslaught of online harassment and rape threats long after her time on the team after she spoke out about her experience with campus sexual assault.  
Jupiter High School's administration isn't offering much of an explanation as to why the policy change came about now. Yet students and their parents are so eager for the game to continue that they are trying to arrange an alternative tackle powder puff tournament, without financial support or equipment from the school. 
A crowdfunding campaign for equipment has yet to hit its goals, but these girls aren't giving up without a fight. In fact, the students successfully petitioned the town council to let them play the game in the town football field. 
"I played last year and I have been fighting to get the game back," student Savannah Tardonia said in a Twitter direct message.  I spoke at the town council meeting on Tuesday. The town council members unanimously passed the motion to let the town have the game." 
h/t New York Times