Alleged Domestic Assault Captured on Video Game Livestreaming Platform Twitch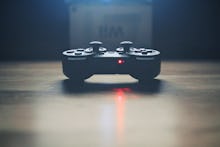 A disturbing audio clip of what sounds like an assault was reportedly recorded by a video game user's microphone on gaming livestream platform Twitch. A few videos (Editor's note: The linked video contains graphic audio. Listen with discretion.) containing the audio appeared on YouTube on Tuesday and Wednesday, according to Jezebel.
In the audio, the woman can be heard screaming and crying, saying, "Get off of me," and that she'll call police. According to one YouTube video title, the assailant is Twitch user JoeDaddy505. A man in the audio calls the woman a "slut" and a "bitch," accusing her of cheating.
The status of JoeDaddy505, the woman and the audio's legitimacy are currently unconfirmed. But the internet beast has already been angrily awoken, with people threatening him on various platforms.
Since it was apparently recorded over a livestream, other people were also tuned in, wondering what was going on and guessing that JoeDaddy505 probably thought his microphone was turned off, according to the audio from the YouTube video. 
Twitch has suspended JoeDaddy505's account for violating its terms of service, according to Jezebel. In regards to contacting the police during the altercation, Twitch told Jezebel that it does in "cases where there is a credible threat of imminent physical harm or actual harm to others, and provides them with information sufficient to respond to the immediate incident to the extent we have it." However, it does not share personal information. 
It seems like all other social media accounts under the JoeDaddy505 username have also been cleared of almost all content, Engadget reported. 
Screenshots of alleged JoeDaddy505 Instagram posts, which said he was drunk during the assault and denied accusations of rape, have been uploaded to Imgur. (Editor's note: This link contains graphic imagery. View with discretion.) 
"I'm inches to killing myself," the caption read. "Fuck you all that told me to kill myself when you don't know the full story." Other screenshots of comments apparently show JoeDaddy505 claiming the woman hit him first.
Twitch has had troublesome encounters on its channels before, with people pulling pranks on each other by calling the police and listening to the live interaction online, Kotaku reported.
Read more: Siri Now Knows How to Help Victims of Domestic Violence and Rape