Britney Spears Penned a Tearjerking Open Letter to Her Sons Just In Time for Mother's Day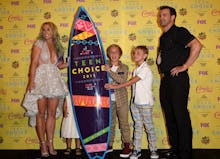 Is iconic pop princess Britney Spears a regular mom or a cool mom?
Neither! She is a sentimental mom who hopes her children still feel small when they stand beside the ocean. Whenever one door closes, she hopes one more opens. 
These are the lyrics to Lee Ann Womack's inspirational country ballad "I Hope You Dance," but they also apply to a letter Spears penned for her two sons, Jayden and Preston, published over at Time this week.
Just in Time for Mother's Day, the "E-mail My Heart" songstress gushed over her two "masterpieces" and bestowed the following motherly advice upon them:
I pray as a mother I teach you strength and passion to carry through the struggles in the world. Most battles will always be won on your knees. I pray you find your dreams ... Always believe in yourself and know anything is possible. I pray dreaming awakens your soul to limitless possibilities. I hope the most precious mysteries of life stay with you always and you are never ashamed of how bright your light truly is.
Let us now take a moment to listen to "I Hope You Dance." You're welcome. 
h/t Time