Queen Beyoncé Is Adding 8 More Stops to Her Formation World Tour, Expanding Her Empire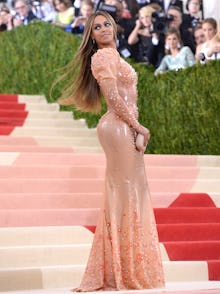 Just like Queen Victoria and several other powerful women who came before her, Queen Bey is expanding her empire while journeying the globe on her Formation World Tour. Beyoncé added eight dates throughout the United States, including an additional New York stop and a rescheduled Nashville performance after her Thursday night concert was postponed, Billboard reported Thursday. 
But sold-out concerts aren't the only thing Beyoncé is tacking onto her world tour — as Mic previously reported, Beyoncé added three charity stops in the country. to promote community activism and women's rights, including one in her hometown of Houston, as well as Detroit and Compton, California.
Below are the newly announced dates, via Billboard:
Sept. 7: East Rutherford, New Jersey
Sept. 14: Los Angeles
Sept. 17: Santa Clara, California
Sept. 22: Houston
Sept. 24: New Orleans
Sept. 26: Atlanta
Sept. 29: Philadelphia
Oct. 2: Nashville — new date after May 5 postponement
Beyoncé is riding high off the success of Lemonade, becoming the first artist to have all six of her albums premiere at the top of the Billboard charts. The Formation World Tour is proving to be one of the most lucrative, industrious concerts enveloping the music world in 2016, while the international megastar is becoming more politically engaged then ever in human rights. 
On Wednesday, her website featured an article on the fight for LGBT rights in North Carolina after the passing of House Bill 2, the controversial bathroom bill, stating, "As the Formation World Tour makes its stop in the Tar Heel State in the midst of such a controversial time, we think it is important for us to bring attention to those who are committed to being good and carrying on the message of equality in this core of controversy."
Not only is the queen expanding the power of her throne, but she's becoming even more invested in the places she's conquering. For that, we salute her. 
Read more: With 'Lemonade,' Beyoncé Has Already Secured 2016's Album of the Year