A Definitive Ranking of Netflix's Original Series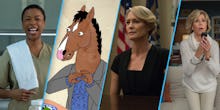 Netflix is slowly taking over the TV world — and it's doing it one original series at a time.
The streaming giant has built up a diverse library of shows across multiple genres that any network would envy. Their programs capture critics' hearts and take over the zeitgeist so regularly, it's become routine. They're not even close to being finished producing, either, with the highly anticipated Gilmore Girls: Seasons on the way and the recent announcement of a half-hour, 10-episode adaptation of Justin Simien's Dear White People.
But how good are these series? Do they stand up to the lofty expectations created for them? Are they worthy of the multiseason renewals they seemingly all receive? We're here to find out.
A few caveats: Shows that have demonstrably different goals than the networks' primary programming aren't included in this ranking. Their children's programming, cartoons for kids and documentary series are great, but seek smaller, more specific audiences. Programs produced in partnership with networks in other countries (like Between and Lilyhammer) must also satisfy the partner's needs, so judging them against Netflix's own artistically independent endeavors is unfair. 
We've also omitted shows entirely in another language, since those are designed to fulfill Netflix's desire to expand globally and thus also serve a different audience. Bilingual shows like Narcos have been kept in. Finally, continuations a la Arrested Development are only counted for seasons produced for Netflix; previous seasons on another network do not count.
Trimming those out, we have a nice, clean 25 series to rank. Which will come out on top? We've ranked them by tiers, from "the best of the best" to the utter "disasters."
The best of the best
1. BoJack Horseman When it first debuted, BoJack Horseman suffered from a mixture of being misunderstood and not executing its premise properly. The first few episodes of season one are unsophisticated at best, unfunny at worst, and critics were unkind. 
Then, mid-season, BoJack figured out what it was actually about. On its surface, it's a sometimes-crude, often funny tale of a washed-up actor (Will Arnett, who voices the titular stud, BoJack Horseman) trying to find some shred of spotlight again. On a deeper level, the series is a meditation on depression. It's a brutal indictment of Hollywood. It's doing things literally no other series — cartoon, live-action, whatever — even approaches.
BoJack Horseman is Netflix's best original series, but it's also the best show on television. Whether it can keep that going into season three this year remains to be seen, but it has our attention.
2. Unbreakable Kimmy Schmidt Yes, Unbreakable Kimmy Schmidt basically raises a middle finger at cries of "problematic!", thus becoming even more problematic in the process. 
But Tina Fey and Robert Carlock's 30 Rock follow-up should be known for more than its occasional bad taste. The story — that of a girl who's been through trauma and gets stronger with every challenge — is one of Netflix's most compelling. Plus, it gave us Titus Andromedon, which is the greatest gift of all.
3. Jessica Jones Like Kimmy Schmidt, Jessica Jones gets deep into a woman's psyche. This woman just happens to be a former superhero who's seen some serious shit. Despite their shared PTSD, you get the feeling Kimmy would love Jessica, but Jessica wouldn't tolerate Kimmy.
Easily the best superhero show on TV (with The Flash running a close second), Marvel's experimenting with far headier stuff than they do in their movies. It's a psychologically taxing show, but the rewards are well worth the investment.
4. Orange Is the New Black There's an unevenness to Orange Is the New Black that makes it a hard sell as "perfect" — the tone is so vastly different from year to year, awards shows don't know whether to call it a comedy or drama. 
Give creator Jenji Kohan credit, however, for the expert way she moves the story away from unlikely inmate Piper Kerman and builds a world of deeply flawed, fascinating characters. It's an incredibly inclusive series, which would be enough to recommend it even if it wasn't great. Luckily, even the most inconsistent episodes deliver a quality that makes it one of TV's best.
5. Wet Hot American Summer: First Day of Camp Directors Michael Showalter and David Wain made this work despite an absurd degree of difficulty — the cast is stacked with huge names, and getting them all together to shoot four hours of new content was a tall order. Think of what happened when Arrested Development couldn't reconvene its actors for season four.
Yet make it work they did. The series was a critical smash that delighted fans. Did it drop out of cultural consciousness a bit quicker than far-lesser series on this list? It certainly felt like it. But the announcement of a new season of Wet Hot, subtitled Ten Years Later, indicates that fan love — and a high quality product — kept Netflix interested.
Good, but needs improvement
6. Master of None We've written about this before, so we'll keep this brief: So much of Master of None indicates an impressive artist's vision, and Aziz Ansari certainly knows how to write a deeply relatable story. Once the ensemble's performances improve in future seasons, Master of None will easily launch into the top tier of this list.
7. Narcos Despite being a fairly quiet entry into the Netflix original series world, Narcos has made noise in a way some of its streaming sisters have not. The Pablo Escobar bilingual drama earned a Golden Globe nomination for best series, as did star Wagner Moura. It's a surprisingly strong series, but its inaccuracies and Anglo-centric approach leave room for growth.
8. The Characters There's a very good sketch show somewhere in The Characters. The idea of giving eight different comics 30 minutes each to execute a concept is fascinating. Unfortunately, with that many varied points of view, the quality is going to be all over the board — and indeed, some episodes of The Characters are vastly better than others. (The best, in our opinion: John Early's episode.)
9. Longmire Picked up from A&E for a fourth season (and now getting a fifth), this crime drama set in Wyoming is the very definition of solid. It's a strong, expanded continuation of the series, but just isn't going to stand out in the age of headline-grabbing shows like Game of Thrones or How to Get Away With Murder. It's a bit too quiet for that.
10. House of Cards There are a ton of problems with House of Cards. The plotting is downright cartoonish, mixing a grim-dark aesthetic with stories that make Scandal look realistic. Kevin Spacey is doing his best impression of Foghorn Leghorn in the role of conniving president Frank Underwood. Faced with mustache-twirling evil in the form of Underwood, other characters simply shrug their shoulders and say, 'He can't be stopped.'
House of Cards deserves a worse reputation than its critical acclaim and awards attention have given it, but there are major parts of the show that keep it relatively high on this list. Robin Wright is doing Herculean duty, turning in a truly stellar performance. Season two's "Chapter 17" is gripping entirely because of her.
11. The Ranch Ashton Kutcher's conservative comedy is a pleasant surprise, largely because it brings something unique to the staid network sitcom format. On the strength of that alone, it deserves its second season renewal. That said, "pleasant" only goes so far. The Ranch is a show that entertains, but has little to say. In the age of comedies like Transparent and Girls, The Ranch should push itself to do a bit more.
Disappointing considering potential
12. The Killing While this is only in regard to season four of The Killing, "disappointing considering its potential" is pretty definitive of the crime drama series as a whole. Even when it was on AMC, The Killing mastered the art of setting its audience up for something big, then letting them down. Season four was probably the best season of the series, with Joan Allen joining the cast in the meaty role of military school headmaster. But for all the great performances (Mireille Enos' stands out), The Killing never quite gelled as well as it could have.
13. W/ Bob and David Simon Miraudo of Junkee put it best: This series was never going to match the brilliance of its predecessor Mr. Show. Bob Odenkirk and David Cross' previous HBO series was a beloved, quirky sketch show. W/ Bob and David was basically a reunion special. It was a valiant effort, but not much more than that.
14. Daredevil We weren't huge fans of Daredevil in season one, but plenty of people were — and they were quickly disappointed in season two. What changed? 
Consider that Jessica Jones came out between the first and second seasons of Netflix's blind crusader caper. Before, Daredevil was the only example of a Marvel TV show. Now that fans have seen excellence in Jessica Jones, "just fine" TV like Daredevil doesn't suffice.
15. Sense8 There are a lot of things in the Wachowski sisters' Sense8 that approach great. Wasn't that orgy scene wild? Wasn't all the potential the series showed in season one thrilling? Now, do us a favor: Explain the plot of Sense8 in one sentence. Tough, huh? Hopefully the sisters can do some untangling of this Gordian knot of a show in season two.
16. Bloodline Ugh, Bloodline. This show is created by the same people who wrote and directed the stellar Damages for five years, and features a truly sensational ensemble cast. It's also exemplar of what's called "slow TV," or programming that takes its sweet time getting anywhere. That sluggish pace made Bloodline's first season a bore, but Netflix had enough faith to give it a second season. We'll see if the gamble pays off.
17. Love Critics fawned over Love, Judd Apatow's nerdy-guy-meets-gorgeous-girl series, but that very description should give a sense of how unnecessary this series is. It feels often like an artifact of the mid-2000s, when Apatow's bromantic comedies reigned supreme (think Knocked Up). It's fine, but why is such an expected program like this on the same network as something as ambitious as Jessica Jones or Sense8?
18. Arrested Development Yikes. Treading lightly here, we'll say again that this is just referring to the show's fourth season, the only one produced by Netflix. The first three seasons are classics.
The fourth season is a train wreck. Creator Mitch Hurwitz had a creative solution to the show's infamous separated-cast problem: Shoot the characters in separate stories, then stitch them together into one long narrative. Film one scene you can get all the actors together in a room for, and green-screen the rest. The result was a disjointed, shoddily edited, shaggily paced mess.
Only for its ambition does it rank as high as number 18. It is infinitely less watchable than the shows below it. Hurwitz's effort was a noble attempt to work around shooting schedules, but season four is also a noble failure.
Watchable, but that's about it
19. Grace and Frankie This sitcom's second season debuts Friday, and thus serves as the inspiration for this list. The premise is promising: Lily Tomlin and Jane Fonda play women finding friendship after their husbands leave them for each other. For their part, Tomlin and Fonda are charming to watch together. (The story about the gay ex-husbands is best paid little attention.)
There's a baseline entertainment value in Grace and Frankie that you'd assume would give it a high ranking on this list, but admittedly, it ranks lower than even a non-fan would expect. Daredevil and Bloodline may be far less watchable, but their highs are quite high. Grace and Frankie never gets much beyond enjoyable background noise. It's cute, but too light.
20. F Is for Family The very definition of middle of the road, F Is for Family recalls much smarter, funnier animated shows. (Think King of the Hill.) Props for some great voice-acting talent, including Laura Dern and singer Haley Reinhart, but F Is for Family can't hold a candle to something like BoJack Horseman.
21. Trailer Park Boys This Canadian mockumentary series jumped to Netflix at the start of the show's eighth season. There was an alarming story involving alleged abuse from one of the show's stars that seems to have blown over, but did result in one co-star resigning. This has nothing to do with the quality of the show itself, and only bears mentioning because Trailer Park Boys is otherwise pretty unremarkable. But it's certainly got fans.
The disasters
22. Fuller House It may be an interesting disaster, but Fuller House is a disaster nonetheless. This corpse of a family sitcom occasionally blinks out a sign of life, but most of the time is content to recite tired Full House catchphrases and desperately attempt to relive the past. But unlike the next three on this list, which at least aim to be impressive, Fuller House knows exactly how mediocre it is. That's strangely admirable.
23. Marco Polo Imagine a really impressive, expensive prestige series. Now take away all of the compelling drama. You're left with a very pretty husk. That's Marco Polo. The series — which tells the story of Marco Polo (surprise!) — was destroyed by critics, a rarity among Netflix originals. Yet like almost every other show on this list, it was renewed for season two.
24. Flaked Netflix's eagerness to renew every show for a second season makes Flaked's lack of renewal notice intriguing. The show follows a self-help guru who can't help himself — not the freshest concept, to say the least. 
It's been two months since the series' release, and reviews for the show weren't great. Netflix infamously doesn't release viewership data to the public, so we don't know how many watched — but maybe Flaked was the streaming service's first true flop.
25. Hemlock Grove Bless you, Hemlock Grove. This horror murder mystery was Netflix's second original series ever, damned to be overshadowed by House of Cards from the outset. Is there a universe out there in which House of Cards flops and Hemlock Grove is the first true streaming hit? Considering exactly how uncomfortable and off-putting this show was: Nah.