This Tow Truck Driver Says God Told Him to Abandon a Bernie Sanders Supporter on the Road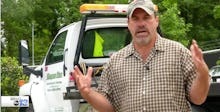 After driving for almost an hour in response to a call, a Donald Trump-supporting tow truck driver refused to service a woman who has a disability when he spotted her Bernie Sanders bumper sticker.
"I'm really not interested in doing business with that clientele," 51-year-old Ken Shupe of Shupee Max Used Cars & Towing said of Sanders supporters to WLOS. "I think the Lord came to me and he just said, 'Get in the truck and leave.'"
Read more: Anti-Trump Protester Assaulted During Clash at Albany Rally
Cassy McWade, 25, the woman who was in a car accident Monday on Interstate 26, close to Asheville, North Carolina, called the family mechanic for help, WLOS reported. However, said mechanic was busy, so he sent a friend along instead — none other than Shupe. 
Shupe even crossed state boundaries to get there, driving from Travelers Rest, South Carolina. But that did not deter him from leaving.
McWade said Shupe was initially helpful, but his tone changed after going to the back of her car, at which point he said he could not assist her.
"My first instinct was there must be something wrong with the car," McWade recalled. "And he says, 'No, you're a Bernie supporter.' And I was like, 'Wait, really?' And he says, 'Yes ma'am,' and just walks away."
The woman was left stranded on the highway, waiting for an alternative. 
McWade has since changed her cover photo on Facebook to "Make America Kind Again," a play on words for Trump's campaign slogan, "Make America Great Again."
Read more: Anti-Trump Protester Assaulted During Clash at Albany Rally