Hacker Guccifer Claims to Have Accessed Hillary Clinton's Private Email Server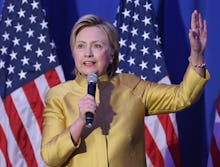 Romanian hacker Marcel Lehel Lazar is saying he hacked Hillary Clinton's private email server. 
"It was like an open orchid on the internet," Lazar said about the former Secretary of State's account in an interview with NBC News. "There were hundreds of folders."
Lazar, who goes by the handle Guccifer, was also responsible for making public a bunch of private emails sent to Hillary Clinton. Lazar found Clinton's alternate email when he hacked into an AOL account belonging to Sidney Blumenthal, who served as a White House aide under former President Bill Clinton. When Lazar attacked Blumenthal, he released several emails between Blumenthal and the then-secretary of state, RT reported. Those emails have since become a matter of hot debate, prompting questions of whether setting up an outside email server was legal.
In 2014, the House Select Committee on Benghazi formed and began investigating the circumstances surrounding a 2012 attack on the American Consulate in Beghazi, Libya. When the committee realized the secretary of state had no emails in her State Department email, she was asked to turn over the entire contents of her private email server.
So far, Lazar has no proof to substantiate the claim that he hacked Clinton's private server , according to NBC. The FBI was also unable to find any indication that Clinton's server had been hacked, the report says. In an interview with Fox News, Lazar goes into detail about how he allegedly hacked Clinton's private server. 
The process goes something like this: Lazar said he figured out Clinton's IP address via her communications with Blumenthal. Then he scanned the IP address to suss out network details, like which of the server's ports were open. Fox News reported they spoke with security experts who confirmed such an attack is possible, but no one has been able to verify that Lazar actually got into Clinton's email server.
Lazar is currently facing charges in the U.S. for his alleged hacking of Blumenthal's email, as well as accounts reportedly belonging to General Colin Powell and others, according to Fox News. He told Fox News he has two gigabytes of hacked material that "is a matter of national security," and that he is willing to cooperate with the U.S. government.