Prince's Alleged Painkiller Addiction Is Part of an Epidemic We Need to Talk About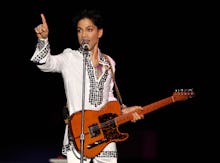 Shortly after Prince's death on April 21, reports emerged that the pop icon had experienced drug abuse issues. According to TMZ, the singer had been treated for a drug overdose just days before his death. 
Now, reports indicate Prince had Percocet, an opioid painkiller, in his system when he was found dead, according to the Minneapolis Star Tribune.
But according to another recent Star Tribune report, Prince may have had an opioid painkiller addiction. He reportedly died a day before a scheduled meeting with Dr. Howard Kornfeld, who specializes in opioid addiction treatment. 
It still isn't clear whether the Percocet "caused or contributed to the musician's death," according to the Star Tribune. Regardless of whether opioid painkillers played a role in Prince's death, the medication has been linked to a growing number of U.S. deaths. The problem is so pervasive, even the White House is trying to fix it. 
America's opioid problem is so pervasive, even the White House is trying to fix it. 
What are opioid painkillers? Opioids are a family of drugs derived from the poppy plant, known for their euphoric effects. The class of drugs includes heroin, but it also includes synthetic opioids liked oxycontin and oxycodone, which are commonly prescribed to treat pain — particularly in the U.S. The U.S. makes up around 5% of the world's population, but it consumes around 80% of the world's opioids, according to a 2011 ABC News report.
Health care providers wrote 259 million opioid painkiller prescriptions in 2012, according to the Centers for Disease Control and Prevention. That works out to a pill bottle for every adult in the U.S.
Opioid painkiller abuse is a huge problem. Of the 21.5 million Americans who had substance use disorders in 2014, 1.9 million "had disorders related to their nonmedical use of prescription pain relievers," according to a survey by the Substance Abuse and Mental Health Services Administration. That's more than the number of people with cocaine use disorder (900,000) and heroin use disorder (600,000) combined. 
Overdose deaths from opioid painkillers are on the rise. The number of yearly drug-poisoning deaths involving opioid painkillers more than quadrupled between 1999 and 2014, according to the CDC. The number of deaths was 4,030 in 1999 — and 18,893 in 2014. That's a jump from 1.4 to 5.9 deaths per 100,000 people.
The government is taking action. In February, President Barack Obama pledged $1.1 billion in funding to combat heroin and opioid painkiller abuse in the U.S. The funding would support initiatives including "expanding Americans' access to treatment, expanding state-level prescription drug overdose-prevention strategies and increasing the availability of the overdose-reversal drug naloxone," Mic previously reported.  
"I think the public doesn't fully appreciate yet the scope of the problem," Obama said at the National Prescription Drug Abuse and Heroin Summit in Atlanta in March. 
On March 16, the CDC released a new set of guidelines urging doctors to prescribe fewer opioid painkillers. And on March 22, the Food and Drug Administration called for new warning labels on certain types of opioid painkillers. 
At the time, experts feared the warning labels were too little, too late.
The takeaway: Fighting the country's opioid problem won't be easy. Doctors need to prescribe fewer opioid painkillers, overdose reversal drugs need to be more available and treatment needs to be more accessible to people who are addicted to the drugs.