Demi Lovato Opens Up About Her Bipolar Disorder, Slams Online Trolls in Twitter Storm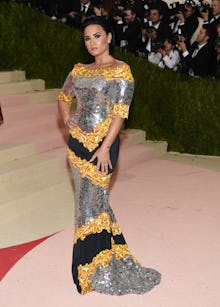 Demi Lovato let it all out during a tweet storm early Thursday morning, opening up about her bipolar disorder and slamming trolls for attacking celebrities online. The "Confident" singer asked what internet bullies' future children will think of them belittling others online, while also suggesting her "rant" might be a side effect from her disorder. 
After revealing this week she might not have had the best time while attending the 2016 Met Gala, the singer addressed what it might feel like to be the target of gossip over things like feuding with fellow female entertainers (Ahem, Nicki Minaj). 
"Sometimes there's more to the story," Lovato began, before unleashing her candid response to her haters. "Maybe my midnight rants are part of my bipolar disorder. Can't change being crazy ... or maybe I rant online because people assume they know things and their entitlement to know makes me feel obligated to defend myself."
Lovato has had a complicated relationship with social media for years — though the former Disney star regularly engages with her active online fan base, she speaks rather openly about the hate she constantly receives. Thursday's tweets were some of the most telling to date.
Meanwhile, cyberbullying is not just a trend attacking celebrities. According to Internet Safety 101, Pew Research found that more than half of teens active on social media report seeing cruel behavior online frequently, and 95% of those say they've seen such abuse ignored.
Read more: Demi Lovato Defends Kim Kardashian West's Nude Selfie With Brilliant Instagram Cartoon