Why Phoebe Buffay Is the Unsung Style Icon of 'Friends' (Sorry, Rachel Green)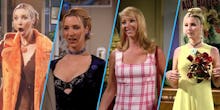 In a world full of mass-produced Pottery Barn apothecary tables, there is one vintage piece unique unto itself: Ms. Phoebe Buffay. The friend who always stood out from the pack was also often overshadowed. During the show's decade-long run, Pheebs never dated another friend, didn't go to London, and was busy getting pregnant with her brother's babies while the rest of the gang played the forever classic trivia game.
On the contrary to fading to the background, though, she sang, danced, and jogged in the most original and unpredictable ways. Undoubtedly, the whimsical enigma of Phoebe is all thanks to kween Lisa Kudrow, the first friend to win an Emmy for her work on the show.  
Read more: We're All Dressing Like Rachel Green from 'Friends,' and It's Awesome
But for all the times Phoebe's character was praised by critics and audiences alike, for some reason, her style never seemed to be appreciated in the same way. Whereas Rachel (played by Jennifer Aniston) worked in fashion, rocked countless memorable looks and had her own damn haircut, Phoebe was never considered a style icon. 
This brings us to our theory: Friends distracted us from Phoebe's incredible fashion moments on purpose, afraid she would officially steal the show. Well guess what? They don't know that we know... but we do. And we're putting this on blast.  
Here are ten times Phoebe was the unsung style icon of Friends, despite something or someone always trying to steal her thunder.  
1. The Pilot
Seconds before runaway-bride Rachel stormed into Central Perk in a sopping wet wedding gown in the show's premiere episode, we were distracted from Phoebe's iconic season-one (and beyond) style — pig tails, midi rings and oversized tops — by a Monica Lewinsky look-alike in the center of the frame.   
Get used to it, people, because Friends will try to suck Phoebe's fashion goddess wind for nine more seasons.  
2. The One Where Heckles Dies
Long before Carrie Bradshaw claimed the title of most well-read New Yorker in her John Galliano for Dior newspaper dress, Phoebe started the trend in this bold graphic blouse. 
The effortless integration of this print and others like it speaks to the range of styles she could pull off, showing early on that even piling large stacks of newspapers in front of her could not stifle her quirkiness.
3. The One With Phoebe's Husband
Here was Phoebe trying to impress her gay(ish) husband (Steve Zahn) by looking flawless, channeling Catherine Deneuve, and rocking a retro, mod mini dress. As we've observed, however, Friends loved to deny her center stage and therefore let Zahn overshadow her the second he waltzed in wearing a red Ice Capades matador outfit...completely covered in sequins. 
Luckily for Phoebe, by changing up her normal folksy style for something more fashion forward, she still managed to upstage him.
4. The One Where No One's Ready
Friends' first bottle episode should have given us 30 minutes of Phoebe's sleek understated yellow maxi dress, which she coupled with one of her signature oversized floral necklaces.
Instead, she spilled hummus while waiting around for Rachel to pick an outfit and we got this. Jokes on Rachel, though, because this Christmas ornament accessorizing will go down as one of the most memorable moments in Phoebe fashion history.  
5. The One with the Flashback
Although it's nice to see ultra-boho Phoebe included in a flashback episode, Friends sure did try to make her blend in with the furniture. 
It turns out this fringe-tastic lamp shade only enhanced her aesthetic, reminding us that Phoebe really should start wearing hats.
6. The One with the Yeti
An outspoken vegetarian, it came as a surprise when Phoebe put her fashion sense first and had an identity crisis over this gorgeous mink coat. In turn, we were blessed with another epic Phoebe moment, the peak of her always stellar outwear game. Unfortunately, this squirrel had to come along and guilt her into giving it away to the guy behind her.  
7. The One That Could Have Been Pt. 1 
Finally, sleek and sophisticated 'what-if' Phoebe getting the attention from her friends she deserved, until...
... she's shoved off to make room for Rachel, dressed as a cow no less. Phoebe is about as invisible as Gunther. (Can you even spot Gunther below?  Hint: don't let the doppelgänger in red fool you.)    
8. The One with the Ring
Regal Phoebe killing the game, wearing a very tasteful amount of jewelry and a much-needed tiara. Real talk: She actually managed to pull this gaudy look off, taking her iconic over-accessorizing to epic heights. But Friends wouldn't allow this reign to last...
And Phoebe was jailed for looking too good. Yeah, OK, also for leaving the store still wearing all the jewelry. (Do they not know she stabbed a cop once? And also made one cry.) 
9. The One with the Donor
While this exquisitely silhouetted, plunging neckline halter dress had Phoebe looking gorg, Friends couldn't let her look this good without undercutting it. 
How? In this exact moment, she also happened to smell like a Russian cab driver.  Thunder stolen yet again.
10. The One with Phoebe's Wedding
In the end, Phoebe faced off against the biggest bitch of an upstager: Mother Nature herself. Instead of letting a blizzard ruin her wedding, though, she got married outside, refused to cover her ethereal, light purple gown, and opted to be her own 'something blue.' 
We forever bow down.     
Even with all of the attention grabbers around her, Phoebe (and sure we guess sometimes her evil twin sister Ursula, too) slayed for 10 wonderful, hilarious, sorely-missed seasons.