The Kardashians Are Filming 'KUWTK' in Cuba — And It's Pissing People Off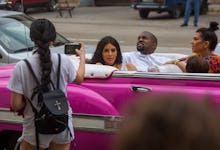 The Kardashians and Wests are coming under heat for their visit to Cuba, during which their reality show, Keeping Up With the Kardashians, is being filmed. 
Florida Republican Rep. Ileana Ros-Lehtinen released a statement to People on Wednesday, censuring the family for their trip. She herself was born in the Cuban capital city of Havana before fleeing to America with her family as an 8-year-old.
"I know it's cool for celebrities to go to Cuba, but the Cuban people don't experience the glamorous Havana that is featured on social media," Ros-Lehtinen said. "Far from photo shoots and fruity drinks, everyday Cubans experience a different, sad reality." 
"Now, the Kardashians are parachuting into the island to tape their vapid TV show. Haven't the Cuban people suffered enough?" the politician queried. 
The Kardashians have enjoyed a highly publicized trip. Khloe Kardashian has documented parts of it on her Instagram, receiving over half a million likes in under 24 hours for just one of her photos.
However, Khloe received a slew of criticism on Twitter after posting a photo of herself posing in front of a wall that had "Fidel" carved into it. Many were quick to point out the brutality of former Cuban President Fidel Castro and how the nation is still sorely lacking when it comes to human rights. 
The family was seen being chauffeured around in classic cars and doing the tourist rounds, including a stop at the Havana Club Rum Museum. 
Despite Ros-Lehtinen's qualms that the Kardashians are experiencing an alternate reality, not reflective of Cuban daily life, Khloe shared via Instagram that she has benefitted enormously from being exposed to the country's culture. 
"With everyday, my goal is to expand my mind," Khloe wrote on Wednesday. "Now, it has been filled with new memories and knowledge of culture, food, traditions, daily life ... It will never go back to yesterday's dimensions! I'm so blessed to be able to appreciate another's culture. God is GREAT! Thank you for my opportunities."
Read more: The UN Is Blasting Khloe Kardashian for Posing With an Orangutan on Instagram