California Just Raised the Legal Smoking Age From 18 to 21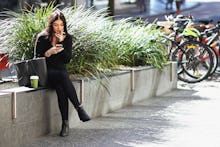 California dealt a major blow to the tobacco industry Wednesday, passing a series of laws, including one that raised the minimum age to buy tobacco from 18 to 21, CNN reported.
"[These laws] will save countless lives, reduce astronomical costs to the health care system, and cost very little because it uses existing enforcement mechanisms," State Senator Ed Hernandez, one of the bill's authors, told CNN. "Today was an enormous victory for not only this generation, but also for many generations to come who will not suffer the deadly impacts of tobacco."
Read more: Here's How Smoking Weed Will Affect Your Sleep
The laws also target the sale of e-cigarettes but make an exception for active duty military service members, addressing the popular argument that citizens willing to fight and die for their country should be free to purchase tobacco.
The legislation drew a range of responses.
"It is long past due for California to update our approach to tobacco, and with the governor's signature on these life-saving bills, we have done just that," Steven Larson, president of the California Medical Association, told the Los Angeles Times. 
Meanwhile, the tobacco industry has pointed to a number of potential steps to fight the new measures, including forcing the issue into statewide referendum, according to the Los Angeles Times.
An Institute of Medicine study from March 2015 projected that should all states make 21 the legal smoking age, there would be "approximately 223,000 fewer premature deaths, 50,000 fewer deaths from lung cancer, and 4.2 million fewer years of life lost for those born between 2000 and 2019."