Christians Fire Back at Trump Fan Who Says God Made Him Desert Stranded Woman by Highway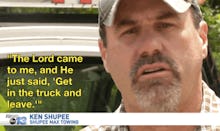 One of the Bible's most famous passages reads: "Judge not, that ye be not judged." But feel free to judge this Donald Trump-loving tow-truck driver who left a disabled woman stranded by a highway — because the woman supports Bernie Sanders.
"Something came over me," Ken Shupe, the driver, told WLOS-TV Wednesday. "I think the Lord came to me, and He just said, 'Get in the truck and leave.' And when I got in my truck, you know, I was so proud, because I felt like I finally drew a line in the sand and stood up for what I believed."
Read more: This Tow Truck Driver Says God Told Him to Abandon a Bernie Sanders Supporter on the Road
It's an unbelievable story for many reasons, not the least of which is Shupe's alleged "message from the Lord." It remains unclear whether such an interaction actually took place — but Mic asked four practicing Christians to share what they thought about it.
All four called bullshit.
Here's a round-up of what the respondents told Mic:
"Using religion as a guise for discrimination undermines the core teaching of Jesus: love of God and neighbor," said Broderick Greer, an Episcopal priest based in Memphis, Tennessee. "It does none of us any good to attribute our hateful impulses to a loving God."
"An unfortunate but all-too-typical bastardization of Scripture and the very epitome of behavior that Christ criticizes," said Tochi Onyebuchi, a writer and attorney. "If challenged, I doubt the gentleman could point to any particular chapter and verse to buttress his position, and the more terrestrial explanation he gives as follow-up is further evidence that beneath the scaffolding of pretend-religious reasoning is utter cowardice.
"I am not in that man's head and cannot attest to what he saw," he added, "but I'm fairly certain it was no burning bush."
"Whomever the truck driver heard, it was definitely not God," said Eliel Cruz, a writer, speaker and organizer. "He did not hear the voice of God who in human form healed the sick, fed the hungry, washed the feet of those from different faith and even political backgrounds. His refusal to tow a car over a bumper sticker is his own asinine prejudices. It has nothing to do with Christianity, even if he attempts to mask it as so."
"There's a large subset of Christians who believe, radically, in discrimination based on how they interpret the Bible," said Danielle Kwateng-Clark, an editor. "Trump scarily appeals to a lot of these folks because of his hateful rhetorical and guise of the church behind it. For me, this is just another reason why I fear for Trump's nomination and potential win."
Background: The genesis (pardon the pun) of the tow-truck driver's story reaffirms just how messed up the whole ordeal was.
Ken Shupe got a call Monday saying a woman had been involved in a car wreck on I-26 in Asheville, North Carolina. He drove his truck 45 minutes from his office in Traveler's Rest, South Carolina, to meet her. But when he arrived, Shupe saw that 25-year-old Cassy McWade had a Bernie Sanders bumper sticker on her car. 
"He goes around back and comes back and says, 'I can't tow you,'" McWade told WLOS. "My first instinct was there must be something wrong with the car, and he says, 'No, you're a Bernie supporter.' And I was like, 'Wait — really?' And he says, 'Yes ma'am,' and just walks away."
McWade is disabled. She has psoriatic arthritis, fibromyalgia, Chronic Fatigue Syndrome and early-stage Crohn's disease, and has a handicap sticker displayed prominently over her dashboard. But that didn't stop Shupe from deciding he didn't want to help her.
Shupe, the driver, is a Trump supporter. He later explained to WLOS that he'd had problems with Bernie supporters paying their bills in the past, and claimed he did not know McWade was disabled — but insisted he wouldn't have towed her car either way.
"I would have pulled forward and sat there with her to make sure she was OK until another wrecker service showed up to get her home safely, but I still would not have towed her car," he said. "I stand by my decision, and I would do it again today if the opportunity presented itself."
So much for spreading the Christian spirit! 
Thankfully, not all members of Shupe's faith share his outlook on the world. 
h/t Raw Story