10 Mother's Day Gifts That Look Expensive but Are Actually Super Affordable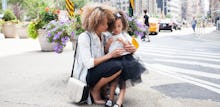 This Mother's Day don't get lost in the sea of flower petals, spa gift certificates and heart-shaped necklaces. Instead, give the mother in your life something less commercial and more sentimental. After all, that's what the holiday is all about.
In 1908, Anna Jarvis organized the first Mother's Day at a Virginia church and Philadelphia retail store, according to History.com. She began campaigning for the day to become a national holiday, based on the idea that most American holidays celebrated the achievements of only males. In 1914, President Woodrow Wilson signed the holiday into effect. 
Mother's Day then fell into the commercialized trap of gift specials and deals right next to Valentine's Day and Christmas. Jarvis would spend the rest of her life denouncing the well-marketed holiday, but it remains well and alive today.
With that in mind, put down the overpriced box of chocolates, and check out these affordable and sweet gifts that mean more than their price tags. Because life isn't actually a Zale's commercial. 
Read more: To Celebrate Mother's Day, Here's 17 Tweets That Show What Motherhood Is Really Like
Give the gift of flavor with this set of 18 types of artisan salts from Saltopia. The set includes a range of flavors, like STUD (dark brown sugar, garlic and habanero) and Sweet Tart (balsamic and blueberry).
What's both zen and easy on the eyes? This flowering tea set by Numi, which comes with "six bouquets of tea leaves" that beautifully blossom in a see-through pot.
If the mother who you're shopping for isn't into tea then consider gifting this minimalist but elegant glass drip coffeemaker, which is outfitted with leather and wooden details. The coffeemaker makes three cups. 
Instead of dishing out big bills for a flower bouquet that's going to die and rest in peace in the garbage, DIY some beautiful (and affordable) potpourri, which includes nice-smelling herbs and fruit as well.
To really make Mother's Day a family affair, gift this custom-made print of your family tree turned into a literal tree.
Who doesn't want some green life in their own life? A terrarium makes the perfect gift to go on someone's desk, bookshelf or nightstand. It's also incredibly easy and cheap to make, especially compared to bouquets of roses.
This beautiful scarf is budget friendly and super soft — after all, it's 100% cotton. It's also handmade in Ethiopia, which means each scarf is unique, just like the mother you're giving it to. 
If you can't afford an expensive spa treatment, consider making a sea salt scrub with ingredients like coconut oil, yummy-smelling essential oils and obviously, love.
With this beautiful laser-cut tea infuser, making tea will never be a boring task.
This metal vase is elegant, simple, and perfect for the mother who doesn't want a typical-looking vase.