Apple Music Just Screwed Over This User in a Huge Way — And It Could Happen to You, Too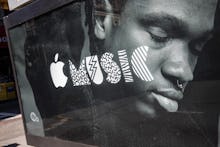 Imagine the horror: You watch one of Apple Music's endearing Taylor Swift commercials or one of its harder-edged Views promos and think it looks cool. You whip out the credit card and hand over all your digits. 
The next morning, you open up your iTunes library — the haven in which you've stored the years and years of music you've burned from CDs or downloaded from the internet — and it's all gone.
That's exactly what happened to James Pinkstone, a freelance composer and the director of studio and operations at Vellum, who shared this horror story on the company's blog. Pinkstone says he lost 122 gigabytes of music: all his demos, his "rare, early version of Fountains of Wayne's 'I'll Do The Driving,'" his "piano demo of "Sister Jack" that I downloaded directly from Spoon's website ten years ago."
When he called to complain, an Apple representative explained to him: "The software is functioning as intended."
"Wait," Pinkstone writes, sharing the conversation he had with Apple, "So it's supposed to delete my personal files from my internal hard drive without asking my permission?"
"'Yes,' she replied."
Twitter immediately erupted over the apparent audacity of this arrangement.
Basically, anything Apple didn't recognize as being part of its hulking database, it dowloaded to its cloud and erased the original, or replaced it with a more standardized, updated versions. And apparently this is all part of Apple Music's standard operating procedure.
It's right in the fine print of its Terms and Conditions: "You expressly agree that your use of, or inability to use, the Apple Music service is at your sole risk." In his blog post, Pinkstone pairs that quote with a graphic of a pristinely manicured middle finger.
However, Pinkstone's account may not be the whole story. Several Twitter users and bloggers attempted to clarify the finer points of what happened to Pinkstone. Apple doesn't delete music of its own volition. But it can do so by mistake if you click "Remove Download" on this prompt after Apple uploads your library to the iCloud:
"If you're not aware of how iCloud Music Library stores copies of tracks, you may delete your local copies to save space, thinking you can get them back — and get screwed as a result," Serenity Caldwell explained in a blog post on iMore.
Still, this confusion is a problem in and of itself. "If it's confusing enough that you can mistakenly DELETE ALL YOUR FILES then it's broken," wrote Twitter user jesse von doom. "If you have to READ LEGAL TERMS to use it's broken." 
Mic reached out to Apple in an attempt to clarify why the program includes this feature and how it works, but the company hadn't responded as of Thursday afternoon.
This reality does point to a dark future. If you do upload your music to the Cloud and delete your files, sticking with Apple may be the only way to keep the music coming. It may not exactly make you a "slave" to Apple Music as some on Twitter claimed dramatically, but it does strip the listener of any sense of ownership they once had over their hard-won libraries.
"I never could have dreamed that the content holders, like Apple, would also reach into your computer and take away what you already owned," Pinkstone wrote, describing a world in which we don't buy media, but instead buy the rights to consume media via a subscription. "If Taxi Driver is on Netflix, Netflix doesn't come to your house and steal your Taxi Driver DVD. But that's where we're headed. When it comes to music, Apple is already there."
The bright side, however, is that Pinkstone's goal to get Apple to face "public backlash and financial ramifications for having taken advantage of its customers in such a brazen and unethical way" is already coming to fruition.