In One Quote, Muslim Boxer Amir Khan Landed a Stinging Blow On Donald Trump's Racism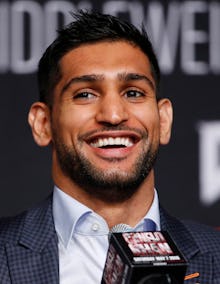 Amir Khan just TKO'd Donald Trump and his hateful rhetoric.
The 29-year-old Pakistani-British boxer met with members of the media Wednesday to discuss his fight against World Boxing Council's middleweight champion Saúl "Canelo" Álvarez, whom he will face in Las Vegas on Saturday.
Khan is Muslim. His opponent is Mexican.
In light of this fact, Khan took the opportunity to make a revealing joke about the once-in-a-lifetime potential of the upcoming showdown — specifically in the event of a Trump presidency:
"This could be the last fight for me and Canelo here. That's if Donald Trump becomes president," Khan said, smiling. "You never know." 
The joke, of course, is a knock against Trump's attacks on people of color.
The presumptive Republican presidential nominee has earned notoriety for calling Mexicans "rapists" and advocating an all-out ban on Muslims entering the U.S.
He has also said he would assemble a "deportation force" to remove more than 11 million undocumented immigrants from the U.S.
All of which would make it quite difficult for two non-American boxers to fight on U.S. soil in the future.
So tune in Saturday, if you're so inclined — it could be your last chance to see these two in the U.S.
h/t Huffington Post