A 'Dear White People' Comedy Series Is Coming to Netflix in 2017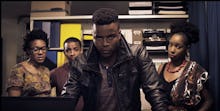 Justin Simien's critically acclaimed indie sociopolitical dramedy Dear White People is being adapted into a 10-episode Netflix series. According to Variety, Simien is working with the streaming service for the TV adaptation and will be a writer for all 10 episodes, as well as the director for the pilot. 
Debuting in 2014, Simien's Dear White People was a critical success, praised for its prevalent discussions of race and society. It is set in a fictitious predominantly white Ivy League school and the tensions between the school's white students and black students reaches a boiling point when the college president's white son hosts a blackface-themed party. The premise, in the guise of satire in "post-racial America," was executed deftly. 
"Dear White People isn't a vehicle for grievance but cockeyed, even optimistic, portrait of people forced to navigate, resist and sometimes exploit an irrational system of unearned privilege," Ann Hornaday wrote in a 2014 Washington Post review. "It's true that satire is the perfect weapon of reason, and Justin Simien deploys it with resourcefulness, cool assurance and eagle-eyed aim." 
The half-hour comedy series will begin production later this year, with an expected release date in 2017. 
"During the film's release, I had the pleasure to speak with hundreds of students and faculty across a variety of college campuses dealing with these very issues in real time," Simien said, according to Variety. "I'm so grateful to have this platform — not only to give a voice to those too often unheard in our culture, but to also tell great stories from new points of views."  
You can check out the trailer for the original Dear White People film below. 
Read more: 'Dear White People' Is an Epic Victory for Black Hollywood
h/t Variety