Kylie Jenner Has Launched Her Rap Career With a Remix of the 'Mister Rogers' Theme Song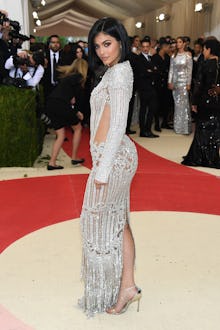 Since the dawn of Frooty Loops, Garage Band and SoundCloud, music has turned into a cute, chubby-cheeked democracy. It's easier than ever for everybody to make and share — from the broke kid messing around in an Apple story to the 1% of the celebrity world. 
That doesn't mean everybody should. 
Read more: One of Rap's Rising Stars Just Released an Amazing Cover of the 'Arthur' Theme Song
Case in point: Kylie Jenner's first foray into rap on the Burberry Perry and Lil Yachty track "Beautiful Day." The song samples the beloved theme to Mister Rogers' Neighborhood. The way Burberry and Jenner mangle it for the song's chorus will destroy any fond memories you have of the show.
There doesn't seem to be any reason why Burberry Perry and Lil Yachty chose to feature three other singers, other than the fact that they could. Jenner pops up around 2:40 to awkwardly stumble through the warped chorus alongside models Justine Skye and Jordyn Woods. Jenner is out of time and off-key, and even a generous amount of autotune can't save it.
Funnily enough, Jenner is not the first in her family to try her manicured hand at music. Remember Kim Kardashian's 2011 "Jam (Turn It Up)"? She's also trying to forget. 
"I don't like it when people kind of dabble into things they shouldn't be," Kardashian said, according to US Weekly. "Like, what gave me the right to think I could be a singer? Like, I don't have a good voice." It seems Jenner could learn a thing or two from her big sis.
As loudly as Woods tried to convince Twitter to "stop being mad at the world and take a joke," lots of users were not about to let the quintet to get away with trying to pass this track off as music.