Here Is a Quiverfull Event for All You Dads Looking to Marry Off Your Teen Daughters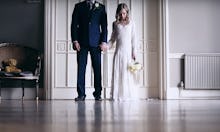 It's hard to find a suitable husband once you've reached a certain age. So glad that Quiverfull is around to help women — or menstruating girls — avoid the embarrassing fate of spinsterhood at 20. 
As Raw Story reported, Let Them Marry Ministries — part of the hyper-conservative Christian group that gave us the Duggar clan — is planning a weekend-long forcible matchmaking event, to which parents can bring "their unmarried young men and women" in need of marrying off. There will be worship, there will be "icebreaker games," there may be some "fun running around," but mostly, there will be marriage:
"Our major focus and priority will be bringing together unmarried young people and their families so they can intentionally network together with a goal of arriving at God-glorifying marriages," the official site for November's Get Them Married retreat reads.
What glorifies God, according to Quiverfull ideology as explained by LTMM leader Vaughn Ohlman, is the unswerving adherence to scripture: People "should marry in their youth" — which, for women, means as soon as they are menstruating and have breasts. Girls are given by their fathers to their husbands in exchange for a fee, and they do not have a say in the arrangement. 
The Quiverfull movement — which eschews birth control and promotes rapid procreation — is a bastion of sexual abuse, as illustrated by 2015's revelations about Josh Duggar's predatory habits. "The family becomes a mini-cult, with the dad as the ruling cult leader," Vyckie Garrison, a former Quiverfull member, told Mic in May 2015. It's a patriarchal culture of female subjugation, in other words.
According to the LTMM site, "There are thousands of godly young men and women who are ready to be married but are not" — presumably because these individuals are largely under 18, and/or lack the requisite interest in marriage. No matter: The Get Them Married retreat will wind its way around the age prohibition. All it needs is for people to sign up and for a venue to accept the booking. While the site says that the Salvation Army's Camp Hiawatha, located in Wichita, Kansas, will be hosting, the Salvation Army says otherwise.
We've reached out to the Ohlman family for comment and are awaiting a response, but the above tweet suggests it's full steam ahead for this gross mixer. 
Read more: Inside the Christian Cult That Told the Duggars to Blame Their Daughters for Their Assault