These Haunting Photos Show What Women Were Wearing When They Were Sexually Assaulted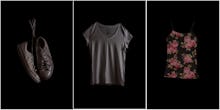 On the list of offensive questions that people typically ask sexual assault survivors, there's one that ranks pretty high: "What were you wearing?" 
Arcadia photography student Katherine Cambareri, 22, was sick of that question. So she decided to use her senior capstone presentation as an opportunity to clap back at victim blamers once and for all.
As part of her "Well, What Were You Wearing?" project, which debuted at the campus gallery on April 29, Cambareri invited college students who had been sexually assaulted to submit the outfits they were wearing when they were attacked. The clothing ranged from thick winter sweaters to gym shorts, thus disproving the idea that a woman can somehow invite sexual assault by wearing provocative or revealing clothing.  
"Sexual assault is about power and control," Cambareri said in a phone interview. "There's no correlation to what a person was wearing." 
Statistics on campus sexual assault range widely, but some estimates say that one in five female undergraduate students will experience unwanted sexual contact before they graduate. When victims go public with their experiences, they are often subject to vicious slut-shaming and harassment. 
Cambareri wanted to separate the survivors from the act, so she photographed the survivors' clothes against a stark black backdrop. 
Since the exhibit went up in the university gallery, several survivors have reached out to her to share their stories. 
"Survivors from other countries have reached out to me as well," Cambareri said. "It has definitely expanded my perspective. [Sexual violence on campus] isn't just an American problem."
Cambareri said at least one critic accused her of selectively photographing modest clothing, but that she had in fact included all the submissions she received in her project. 
"I do plan to continue the project after graduation and hope to include male victims, because I think it's important," she said. "[Sexual assault] doesn't only look one way." 
h/t Metro