Donald Trump Celebrates Cinco de Mayo by Chowing Down a Taco Bowl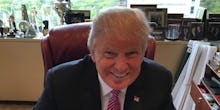 Guess taco bowls can't be kept out by Donald Trump's wall.
The Donald hailed Cinco de Mayo by splashing a picture of himself giving a Mexican-themed meal the thumbs-up all over social media.
Read more: Mexican-Americans Want You to Know You're Celebrating Cinco de Mayo Completely Wrong
"Happy #CincoDeMayo! The best taco bowls are made in Trump Tower Grill. I love Hispanics!" Trump tweeted.
Now the presumptive Republican nominee for president, Trump famously cannonballed into the White House race in June by saying many Mexican immigrants were "rapists" and drug dealers, while others, "I assume, are good people."
As he lost business deals over his comments and stirred up protests, Trump continued to insist Latinos loved him... and that he'd win their votes.
There wasn't much love for Trump on Twitter, as users were left frankly aghast:
According to the Trump Tower Grill's website, the bowl is listed on the specials menu "for Thursday, 5 de Mayo" as a "Taco fiesta!" and will set you back $13.50.
The billionaire, who railed against John Kasich's "disgusting" eating habits before forcing him out of the primary race, is not actually pictured consuming the dish.
Likely Democratic nominee Hillary Clinton got in on the action less than an hour after the taco tweet: