Putin Sent the Kremlin's Favorite Conductor to Perform in the Syrian Palmyra Ruins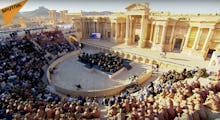 Russian maestro Valery Gergiev, the Kremlin's favorite conductor, brazenly led a performance in Syria amid the ancient ruins of Palmyra, with musicians from the Mariinsky orchestra of St. Petersburg. The concert was a defiant celebration of a Russian-backed Syrian offensive to reclaim the region from Islamic State militants in March.
President Vladimir Putin was projected via live broadcast from Russia onto a screen in the amphitheater, during which he hailed the Syrian-Russian military collaboration as a success in their advances against ISIS. The concert, entitled "Prayer from Palmyra: Music Revives the Ancient Walls," was performed in the "memory of all the victims of terror," the president said.
The unprecedented event seems in part to be motivated by a desire to galvanize greater international participation in the fight against ISIS — specifically, within Syria. 
"The world community extremely neglectfully treated the threat of ISIS and international terrorism, and it seems to me should now atone for its guilt by helping to save what can still be saved," the Russian minister of culture said, according to the Washington Post. 
"What was done here can only be compared with what the fascists did in Russia," Medinsky added. "It is amazing that the lot of the Russian soldiers in all times in history has been to save world culture from destruction."
While the Kremlin alleges that no Syrian civilians have died as a result of their participation in the Syrian civil war, human rights organizations estimate that Russian airstrikes have killed around 2,000 Syrians since October.