High Point High School Shooting Leaves 1 Dead, 1 Injured in Beltsville, Maryland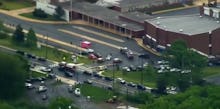 One person is dead and another injured after a shooting at High Point High School in Beltsville, Maryland, NBC Washington reported.
A Fox 5 reporter at the scene said the person injured is "a man in his 40s." The station also reported authorities "are still searching for the shooter or shooters."
According to WUSA, a police spokesperson said authorities think the shooting is "domestic in nature" and the "victims are believed to be adults between the ages of 40 and 50."
This story is breaking and will be updated as more information becomes available.
May 5, 2016, 6:12 p.m. Eastern: This story has been updated.
Correction: May 5, 2016