Why It's OK to Celebrate Mother's Day Without Wanting Kids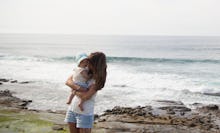 For many families, Mother's Day can be a joyful holiday. However, what the holiday cards won't tell you is that Mother's Day can also bring up some emotions that aren't so positive.
One source of discomfort on the holiday? The reinforced pressure it puts on many young women to become mothers — whether or not they actually want kids in the first place.
To state what should be obvious: not wanting to be a mother doesn't mean that you don't love your own. We talked to four young women to prove that wanting to be childfree doesn't interfere with celebrating moms — all year-round. 
Constanza*, 22, Los Angeles, CA
"My mom has always been a very strong and independent woman, which is unusual in Chilean culture. She separated from her husband before divorce was legal. And she left her family, her country and everything she ever knew because she knew her two young kids would have a better life in the U.S.
I find my mom's fierce selflessness for her kids incredibly beautiful. She describes herself as a mama bear, and I can attest that her description is completely accurate. I admire that connection with her children, [but] the idea of being a parent has never appealed to me. I want to travel and give my whole heart to my research. A child doesn't fit into my plan.
My mom has seen my ambition and understands that a child would hold me back. In her family it was assumed that she would have kids once she was married. Her form of rebellion was waiting to have her first child until after she had her veterinary degree.
The only time I felt pressured on Mother's Day was by a previous partners' mother, who said that a good present would be grandchildren. But in my family, Mother's Day is really about appreciating all the strong women in our lives. For me that means I call my mom, my grandma, my aunt and my close friends' moms and grandmothers as well."
Taryn, 23, Philadelphia
"My mom and I couldn't be more different. She's very conservative and religious — I love my mom, but it can be really hard for us to relate to each other. I do really admire her generosity — she'll do absolutely anything she can to make us happy. When I was in college, my mom actually sent me Mother's Day cards each year, signed by my dog. 
I don't want to have kids because... I'm not willing to sacrifice the things I want or limit my life for anyone else. Having kids would close a lot of opportunities, and that just isn't what I want out of my life. 
One of my friends was telling me how weird it felt after his mom died to realize there wasn't anyone checking up on him anymore. I hadn't even thought about it before he said that, but I think that's my favorite thing about moms (or any maternal or guardian figure in your life): the comfort of knowing they're around for you, even if they aren't directly involved in your daily life."
Emily*, 23, Massachussetts
"I'm extremely close with my mother. Many people say we act like best friends. I admire her ability for self-sacrifice the most. For both her career [as a surgeon] and her personal life, she's had to put aside her own happiness for the sake of others'. Her martyr complex can be frustrating at times to watch, but I admire her for it as well.
I try to think of Mother's Day as an opportunity to express love and gratitude to the women who sacrifice so much for others every day. I respect a mother's sacrifice, but it's also the main reason why I think motherhood is not for me. I don't believe I can give up that much independence and (admittedly selfish) comfort without being resentful — not necessarily towards my children, but to important people around me."
Serena, 23, San Francisco Bay Area
"I have a wonderful relationship with my mom. I trust her with nearly every major decision I have in my life. She wasn't always expressive with her love, as I feel many Asian parents are, but she has her own way of handling affection. She overcame obstacles to provide my sister and myself the best life possible.
I've been very vocal with her over the years about my desire not to have children, and she's been nothing but completely supportive and understanding. As I'm growing to understand her more as a parent and as an actual human being, I learned that she may not choose to become a mom if she had to do things over again. I think the reasons my mom might not choose to be a parent again are similar to why I don't want to be a mother.
On Mother's Day I focus on how I can be a better daughter, not on being a mother myself. It's a reminder of the often under-appreciated work our moms and motherly figures go through to make us who we are today. I don't believe a mom has to be someone who is related to you by blood, but instead someone you identify as having a profound influence on your life. It's a day when I focus on how I can be a better daughter, not on being a mother myself."
*First names have been used to allow subjects to speak freely on private matters.