Virginia Girl With No Hands Anaya Ellick Wins Handwriting Contest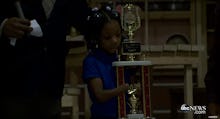 Forget whatever cool thing you've done recently.
Because it probably pales in comparison to Virginia first-grader Anaya Ellick. The 7-year-old student at Greenbrier Christian Academy was born with no hands; that, however, didn't stop her from winning a national handwriting contest earlier this week, CNN reported.  
And what did you do yesterday?
The contest was sponsored by the Zaner-Bloser company, which has been presenting the Nicholas Maxim Special Award for Excellence in Manuscript Penmanship for 25 years. 
"Anaya is a remarkable young lady," Greenbrier principal Tracy Cox told CNN. "She does not let anything get in the way of doing what she has set out to do."
According to the network, Ellick managed to accomplish the incredible feat of elegant penmanship by holding "a pencil between her arms and [standing] at her desk to get the right angle for writing."
Ellick won $1,000 for her work as well as a stately trophy. Her school, meanwhile, will receive a gift certificate for additional supplies as well.
Read more: Science Has Good News for People Who Write in Cursive