'Inside Amy Schumer' Shows Just How One-Dimensional Hollywood Roles Are for Women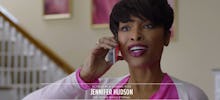 In light of the controversy surrounding this year's Oscars, and the limited number of female roles in Hollywood, Amy Schumer took the industry to task in the latest episode of Inside Amy Schumer. With Steve Buscemi as host for a parodied awards ceremony, the sketch starts off introducing the nominees for best actress. 
"Without the five beautiful, talented women we're honoring now, their movies would only have five names on the poster, instead of six," he says. 
Along with Schumer, the nominees include Julianne Moore, Jennifer Hudson, Maggie Gyllenhaal and Laura Linney, and it doesn't take long to unearth the commonality in their performances: They're all just waiting by the phone for their husband to come back from an important event. Or, in the case of a pregnant Moore in The Time Traveler's Wife's Husband, she needs him to "come back from the past ... for [the baby's] future." 
Schumer eventually wins the award. While she is only available to accept it by phone, she gives praise to the creative team behind the performance. 
"I'd like to thank my hair team, hair team six, we call you guys," she says. "But more than anything, I really want to thank the writers because you're the ones that come up with all these dynamic roles for women. Without you, we wouldn't be able to answer the phone. Thank you, heroes." 
You can check out the sketch, along with the rest of Thursday's episode, here. 
Read more: Amy Schumer's Latest Sketch Takes On Twitter Cyberbullying