Nearly Half of Trump Supporters are Behind Him Because They "Don't Want Hillary Clinton"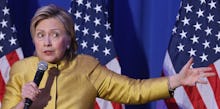 Nearly half of all supporters of GOP presidential frontrunner Donald Trump reported that they are only supporting the brash New York billionaire in the presidential race because they "don't want Hillary Clinton to win," according to the results of a Reuters/Ipsos poll released Thursday.
The findings found that a a desire to keep Clinton out of the White House accounted for a full 47% of Trump's support. Another 43% said they agreed with his political positions; only  6% said they "personally" liked the guy.
Read more: 2 Moments Show Exactly Why Hillary Clinton and Bernie Sanders Voters Are So Far Apart
On the Democratic side, the numbers were almost identical, with 46% saying they backed Clinton out of a desire to deny Trump the presidency. Forty percent agreed with her policy positions and another 11% said they liked her.
"This phenomenon is called negative partisanship," Larry Sabato, director of the University of Virginia's Center for Politics, told Reuters. "If we were trying to maximize the effect, we couldn't have found better nominees than Trump and Clinton."
With Trump now his party's presumptive nominee and Clinton's march in the same direction increasingly inevitable, the contours of the race have already begun to take shape. On Wednesday, team Hillary released a blistering ad against Trump almost entirely made up of negative comments from Trump's defeated rivals and other GOP luminaries. 
Trump, meanwhile, has openly warned to make both Hillary and former president Bill Clinton's past transgressions an election issue, tweeting out an ominous message of what's in store. 
So buckle your seat belts — the next few months are going to be ugly.