Alden Ehrenreich Will Play a Young Han Solo in 'Star Wars' Characters' Origin Film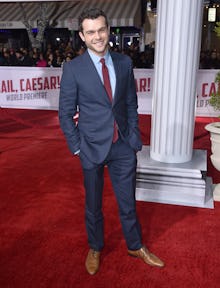 After searching through all corners of the galaxy and over 2,500 other potential candidates, Star Wars has found its young Han Solo. According to the Hollywood Reporter, Hail, Caesar! breakout star Alden Ehrenreich will play the smuggler in the upcoming Han Solo spinoff film, set to be released in 2018. 
Ehrenreich was among a shortlist of candidates, which included Emory Cohen (Brooklyn), Taron Egerton (Kingsman: The Secret Service) and Jack Reynor (Transformers: Age of Extinction). However, it appears Ehrenreich was deemed the most stuck-up, half-witted, scruffy-looking Nerf herder among the bunch, no doubt due to his impressive performance in the Coen Brothers' latest film. 
"In true old-Hollywood fashion, there's a star being born here: Ehrenreich, whose aw-shucks demeanor in the face of studio duplicity (and hedonism) is consistently hilarious," Alonso Duralde wrote in a Hail, Caesar! review for the Wrap. "And heck, he even knows how to jump through a lasso. It's no easy feat being the standout here — the marquee names are all delightfully funny, not to mention the passel of character actors playing the blacklisted writers — but Ehrenreich's going to have moviegoers learning how to spell his name."
Case in point: 
As for the Solo film, the details are still sparse, though it is expected that we'll see the smuggler before he joins the Rebel Alliance. And of course, Chewbecca is expected to play a key role as well. So in the meantime, Ehrenreich, perhaps you should let the original Solo impart some advice on the casting news. 
Read more: Harrison Ford Auctioned Off His Han Solo Jacket to Raise Money for Epilepsy Research