Mitt Romney Says He Won't Support Donald Trump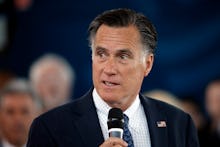 Mitt Romney, the 2012 Republican presidential nominee, cited concerns of "demagoguery" while refusing to back presumptive Republican nominee Donald Trump at a gala in Washington, D.C., Thursday night, according to the Washington Examiner.
"I see way too much demagoguery and populism on both sides of the aisle and I only hope and aspire that we'll see more greatness," Romney said, according to the Examiner.
"I don't intend on supporting either of the major party candidates at this point," he said.
Read more: House Speaker Paul Ryan Is Not Quite Ready to Endorse Donald Trump
The former governor of Massachusetts said that the United States is at "an inflection point in our history" and that the once-crowded race for the White House had failed to produce candidates commensurate with the moment.
"I am dismayed at where we are now, I wish we had better choices and I keep hoping that somehow things will get better, and I just don't see an easy answer from where we are," he said.
Mitt Romney isn't the only prominent Republican declining to back Trump for the moment. House Speaker Paul Ryan, the GOP establishment's chief ideologist, has said he wants to wait and see more of what Trump has to offer.
"To be perfectly candid with you Jake, I'm just not ready to do that at this point," Ryan said on CNN Thursday when asked about backing Trump. "I'm not there right now. And I hope to, though, and I want to."
Why are Romney and Ryan refusing to endorse Trump? Put simply, they're trying to make Trump hew more closely to the party line.
Trump must unite the party after a chaotic primary season before the general election if he wants to have any chance of making it to the White House, and winning the favor of Republican leaders would probably help. At the very least, it will make it easier for him to raise money. But so far, his strategy of doing everything on his own terms has served him quite well.