In New York City, It Could Soon Cost You a Nickel to Use a Plastic Bag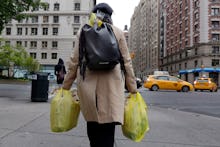 On Thursday, the New York City Council approved a bill that would charge shoppers a nickel for a plastic bag.
The fee would be collected by stores rather than the city. Restaurants, prescriptions, items bought by food stamps and produce are exempt from the tax, CNN reported. 
The bill would go into effect on Oct. 1 and is intended to encourage people to bring their own reusable bags and cut down on waste. It also aligns with Mayor Bill de Blasio's mission to cut down on landfill waste by 2030.  
Read more: Emma Watson's Gorgeous Met Gala Gown Was Made Entirely of Recycled Plastic
If de Blasio signs, and he is expected to, it would make New York City the latest municipality to pass such a measure — over 150 others have passed similar laws.
Americans use over 100 billion plastic bags each year — more than 1 trillion worldwide, which typically end up in the oceans, washed ashore on beaches or in landfills, where they harm wildlife and habitats. They can take up to 20 years to decompose, leaving behind chemicals to be absorbed into the environment.
In New York City, over $12.5 million is used annually for plastic bag cleanup from beaches and parks, according to CBS News. 
"Everyone knows that plastic bags are a problem," Councilman Brad Lander, a bill sponsor, told CBS News. "They blow everywhere. They never biodegrade. They're made of petroleum. And we don't need them."
Some New Yorkers criticized the bill, bemoaning the inconvenience of having to carry a reusable bag and noting the already high cost of living in NYC.
But the measurable effect of such legislation is likely too substantial to overlook. According to a 2011 study by the U.K. Environmental Agency, it only takes 131 trips to the grocery store for your canvas tote bag to have a positive impact on the environment.