This Video Shows Moms Giving Their Transgender Kids the Support They Deserve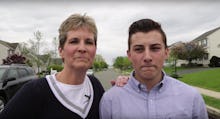 Just in time for Mother's Day, the Trans United Fund has released a video that features moms of transgender youth recounting how their children came out and talking about expressing support for their children. 
The video also addresses the wave of anti-trans legislation sweeping the United States. To counter these laws, and perhaps change people's hearts when it comes to trans people, these moms have one suggestions: Meet my child. 
In the video's first story, a mother tells the story of her transgender son, who approached her with the news that, though he was born a girl, he felt like a boy. "What does that mean?" the mother recalls thinking. 
One Latina mother said that when her child came out as a transgender girl, she felt the most important thing to do was to tell her that she loved her no matter what. 
The moms also discuss the recent wave of anti-trans bills — particularly anti-transgender bathroom bills — that are being introduced in legislatures around the U.S. The most notorious of these laws is North Carolina's HB2, which requires state residents to use the bathroom that matches the gender they were assigned at birth, rather than the gender they identity as. Activists, rock stars and even the Department of Justice have denounced the bill, which has led the number of calls to a North Carolina transgender crisis hotline to double. 
One transgender young man wishes that politicians had more respect for trans people. 
According to the video, 50 pieces of legislation targeting trans people have been introduced in 20 states. As the video relays, stigma against trans people has devastating consequences: 1 in 4 trans people have been physically assaulted and 41% of transgender youth have tried committing suicide. The video reports that nine transgender people have been murdered this year, but a 10th reported murder occurred on Wednesday. 
Thinking about these statistics and the challenges her daughter Trinity will face, one mom talked about the fear of losing her child:
The video ends with the moms extending an invitation to those who don't know any transgender people: Come meet our children.