Samantha Bee Had the Best Response to Donald Trump's Pandering "I Love Hispanics!" Tweet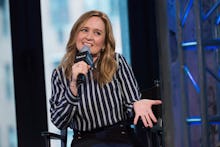 In a Facebook post Thursday, Samantha Bee ripped into Donald Trump's infamous Cinco de Mayo tweet.
In case you missed it, Trump commemorated the holiday by sharing a photo of himself eating a taco bowl in his office with the caption, "I love Hispanics!"
The tweet was a blatant attempt at pandering to a group Trump has routinely insulted and attacked. 
But Tump's attempt to weasel his way back into the good graces of the people he's so viciously attacked throughout his campaign did not slip by the Full Frontal With Samantha Bee host.
On Facebook, Bee recreated Trump's photo with a brutally honest twist of her own:
"The best taco bowls are made by hardworking immigrants who don't like being called rapists by a rich prick," the caption read. "I love inauthentic Mexican food!"
Yeah. That pretty much nails it.
The Donald has a checkered history with Hispanics — to say the least. 
Thursday's tweet comes after the presumptive Republican presidential nominee spent much of his campaign calling Mexican immigrants "rapists" and threatening to form a "deportation force" to remove 11 million undocumented people from the United States — almost half of whom are Mexican.
It necessary to put him in his place.
Well played, Samantha. Well played.
h/t Mediaite