'Scandal' Revealed Everything Wrong With Donald Trump Without Once Saying His Name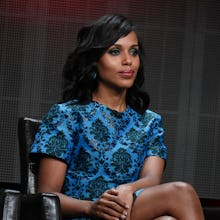 ABC political drama Scandal gave an epic Donald Trump roast during Thursday's episode — without even mentioning his name.
The character of Hollis Doyle (Gregg Henry) is essentially a Trump stand-in — a Republican, racist, sexist billionaire running for president.
The moment happened roughly two-thirds into the episode, when Olivia Pope, played by Kerry Washington, pressured Democratic Senate Majority Leader Edison Davis (Norm Lewis) to sabotage his own campaign by speaking out.
So he delivered this speech to the press:
The name of the episode? "Trump Card." Watch the full episode here (you'll need a cable log-in) or the scene below.