Street Artist Makes Controversial Trump Comparison, Watches Death Threats Roll In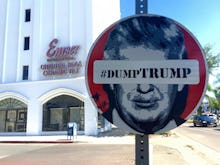 British street artist Pegasus is six months out from his Los Angeles gallery show — and that planned display is already getting him death threats.
One of the pieces shows presumptive Republican nominee Donald Trump dressed in a Nazi uniform in a pose evocative of Adolf Hitler, with the George Santayana aphorism "Those who do not remember the past are condemned to repeat it," stenciled over it.
Pegasus debuted a version of the image on the wall outside a U.K. pub in February, and tweeted it with the caption "History always repeats! Don't make America Shit again! #dumptrump now before it's too late!"
In an interview with Mashable published Friday, Pegasus' manager, Leonard Villa, said both he and Pegasus have received 28 threatening phone calls from Trump supporters.
"They say they know what day the show's going to be ... and they're going to come and sabotage it," Villa said. "It's quite frightening really. I think people must be really obsessed with Donald."
The artist said the Los Angeles Police Department has promised an increased security presence at the show, but it sounds like he would be seeing his plans through either way. 
"I will not be defeated by fear mongering," Pegasus told Mashable, "and I will not be censored."
Read more: Christians Fire Back at Trump Fan Who Says God Made Him Desert Stranded Woman by Highway