The Pope Slams Europe for Its Response to the Refugee Crisis in an Impassioned Speech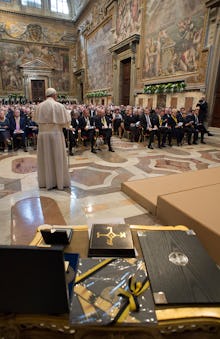 While receiving the prestigious Charlemagne prize Friday for European unification at the Vatican's Sala Regia, Pope Francis criticized European leaders in attendance for how their continent has fallen short on providing a meaningful humanitarian response to the refugee crisis. 
In his acceptance speech, the pope accused Europe of being "tempted to yield to [y]our own selfish interests," Associated Press reported, and a place where "being a migrant" is a "crime," according to Agence France-Presse. In 2015 alone, Europe absorbed more than 1 million refugees.
Read more: Pope Francis Just Invited 12 Syrian Refugees to Live in the Vatican
Francis is the first pontiff to receive the award, which honors "valuable contribution to West European understanding" and has been given to names that run the gamut from Angela Merkel to Henry Kissinger, and used the opportunity — in the presence of European Central Bank President Mario Draghi, Merkel and European Parliament President Martin Schulz, among many other continental leaders — to censure the European Union for its inadequacies in dealing with the migrant and refugee crisis, encouraging it to do better. 
"What has happened to you, the Europe of humanism, the champion of human rights, democracy and freedom?" Francis said, according to Reuters. "What has happened to you, Europe, the home of poets, philosophers, artists, musicians and men and women of letters?"
"What has happened to you, Europe, the mother of peoples and nations, the mother of great men and women who upheld, and even sacrificed their lives for, the dignity of their brothers and sisters?" he said.
"What has happened to you, the Europe of humanism, the champion of human rights, democracy and freedom?"
Francis also mentioned the need to engage and create opportunity for a neglected youth and to amend public policy in order to make "more inclusive and equitable economic models, aimed not at serving the few, but at benefiting ordinary people and society as a whole," the New York Times reported.
His comments echoed his unwavering commitment humanitarianism, which included inviting 12 Muslim refugees to return with him to the Vatican on April 16 after his visit to the Greek Isle of Lesbos, a major port of call for refugees fleeing to Europe. 
Leaders appeared publicly receptive to Francis' message. "When you take in 12 refugees — in proportion to the population of the Vatican, that is more than any EU member state — you fill our hearts with new courage," European Commission President Jean-Claude Juncker said, according to Reuters. 
Time will tell if the receptivity of those present for the speech is lip service or will produce an ideological paradigm shift for the region.