#StarringJohnCho Website Just Found the Answer to Hollywood's Diversity Problem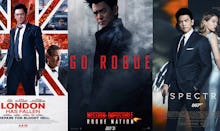 It's no secret that Hollywood has a race problem. 
Despite a wealth of diverse talent in the industry, filmmakers continue casting white actors in roles that should go to Asian or Asian American actors — if they offer roles for Asians or Asian Americans at all.
"There aren't any Asian movie stars," writer-producer Aaron Sorkin famously complained in a leaked email in 2014. It's a common excuse for filmmakers to make, but a hard one to prove — which is why William Yu, a 25-year-old digital strategist, came up with his own solution:
Just cast John Cho in everything.
William Yu's poster series reimagines well-known Hollywood films with one key change: Cho, the Korean-American actor of Star Trek and Harold and Kumar Go to White Castle fame, is inserted as the star using Photoshop.
The point, Yu said, is to show that Hollywood already has viable Asian American stars in its ranks — filmmakers just need to use them.
"I'm tired of hearing that a role can't be played by an Asian actor because people 'just don't see it,'" Yu said in a phone interview Friday. "#StarringJohnCho is here to literally show you."
If you think about it, Cho is an ideal choice for this endeavor. 
Just look at him:
He's handsome, funny, talented, charismatic and has a string of box office hits under his belt. 
Oh, and coincidentally, he also happens to be Asian American. Cho is the prototype here, but he easily could have been substituted for any number of other young Asian stars — male or female, American or otherwise — including Steven Yeun, Constance Wu, Dev Patel and dozens of others.
"I hope that people visit the site and realize that being a charismatic protagonist, a romantic interest, or an action star is not race specific," Yu said. 
It's a timely point, considering recent developments in pop culture. 
Over the past month, debate around opportunities for Asian and Asian American talent in films has been invigorated. The casting of white actors Scarlett Johansson and Tilda Swinton — as Motoko Kusanagi in Ghost in the Shell and the Ancient One in Dr. Strange, respectively — has lent new credence to claims that, in the rare instance an Asian character does appear in a Hollywood film, that role too often goes to a non-Asian performer.
"With the slew of recent whitewashing of Asian roles, it became clear that now was the time to do something," Yu said. "It's about igniting a conversation about how Asian Americans are perceived in today's Hollywood landscape and our greater society."
Indeed, this controversy has sparked at least one trending hashtag on Twitter — #WhitewashedOUT — that drew attention to the lack of diversity in the film industry, and the exclusion of Asian talent in particular. Below are some of the tweets:
Meanwhile, the numbers clearly back up these critiques. 
According to a recent study from University of Southern California's Annenberg School of Communications, Asian actors got just 6.3% of the named or speaking roles given to nonwhite actors in Hollywood films in 2014. Since nonwhite actors got less than 30% of such roles that year, which means the total percentage of Asian speaking roles was closer to 1%.
Not only does this fail to reflect a rapidly changing U.S. — roughly 5.4% of the country is Asian, while Asians make up 26% of new immigrants — it flies in the face of logic. A yearly study from UCLA's Ralph Bunche Center for African American Studies has found, repeatedly, that films and TV shows with more on-screen racial diversity are rewarded at the box office:
In 2014, movies with casts that were between 41% and 50% nonwhite earned a median of $122 million at the global box office. Movie with casts that were 10% nonwhite or less earned a median of $52.6 million, according to the report.
But is Cho really the answer to Hollywood's diversity problem? 
The easy answer is yes, but the more nuanced one concedes that Yu's poster project is an experiment aimed at a bigger point. 
If you look at his website, the scope becomes clear. Yu has paired his artwork with a slew of education materials, including facts about Asian Americans in Hollywood, links to stories that further illuminate the issue and a hashtag — #StarringJohnCho — that visitors can use to share their thoughts on social media.
But the bottom line remains: Cho is, as Yu writes on his site, "the star we deserve."
"I'd love to thank John for sticking to his guns and continually pushing the boundaries of who Asian Americans can play in film and television," Yu said, when asked if he had anything to say to Cho. "He's made a conscious effort to avoid stereotypical roles, and that is a choice that takes courage. Please continue to encourage, support, and find opportunities for other Asian Americans to break the mold of how we are perceived in our society."
Preach, young man. Now it's time for Hollywood to start paying attention.