Colton Haynes Nails Exactly What It's Like to Be Closeted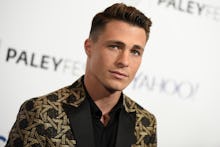 In an Entertainment Weekly interview published Thursday, Arrow actor Colton Haynes officially told the world that he's gay. 
Haynes hinted at his sexuality back in January, when he offered a casual response to a fan's Tumblr post about the actor's "secret gay past." "Was it a secret?" Haynes wrote. "Let's all just enjoy life & have no regrets :)."
Read more: Fans React to Mac's Coming Out in 'It's Always Sunny' Season Finale
But the 27-year-old got even realer in this new interview, starkly addressing the ambivalence he felt about coming out to the public and the "exhaustion" of being in the closet.
It turns out that his coy Tumblr banter about *maybe* being gay was actually a major source of anxiety for Haynes. 
"It was a complete shock. I wasn't ready to be back in the headlines," he told EW. "I should have made a comment or a statement, but I just wasn't ready. I didn't feel like I owed anyone anything. I think in due time, everyone has to make those decisions when they're ready, and I wasn't yet. But I felt like I was letting people down by not coming forward with the rest of what I should have said."
While he's been out to friends and family for "most of his life," Haynes said he was hiding his sexuality from the world — career advice frequently offered to young, gay actors in Hollywood. And maintaining that facade meant "acting 24 hours a day." 
Haynes' experience speaks to a lived truth for so many people who are still forced to hide their sexuality given the homophobia that plagues much of the world. 
With this new step, things seem to be looking up for Haynes. "It took me so long to get to this point," he told EW, "but I'm doing so good."