W. Kamau Bell Explains to Stephen Colbert Why Black People Can't Be Racist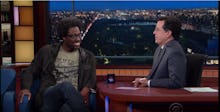 Comedian W. Kamau Bell is hosting a new series on CNN, United Shades of America, in which he explores various subcultures in the country, or, as Stephen Colbert said in their interview on The Late Show, it's where "a black guy goes where he shouldn't."
This is exemplified in Bell's first episode of the series, which premiered April 23, when he meets with members of the Ku Klux Klan to talk about the group's ideology. 
While their racism is, to put it bluntly, quite apparent, Bell explains to Colbert in the Late Show interview how white people can act racist in their everyday lives without noticing it.
"I think the most racist thing people do without thinking it's racist is the following: starting a sentence like this, 'I'm not racist, but...'" the comedian says. "I think the minute you try to pretend, especially as a white person in this country, you try to pretend like you're not actually benefitting from racism and white supremacy, the minute you try to except yourself from that, you're leaning into racism." 
As a counterpoint, Colbert asks if black people can engage in racist behavior, to which Bell notes an important distinction: Yes, black people and people of color can be prejudiced, but that is different from racism.
"When you say the word 'racism,' a lot of people who are way smarter than me ... academics, they don't believe you can be racist if you're a person of color, if you're a black person," Bell explains. "We can be prejudiced, but racism implies power and institutions behind it. I can be prejudiced, I can be like, 'I don't like white people,' but I can't, like, not hire them or not give them their voting rights — you know what I'm saying? So it's a very different thing." 
Check out the full interview between Bell and Colbert — where they also discuss Larry Wilmore's White House Correspondents' Dinner speech — below: 
Read more: Stephen Colbert Gives Ted Cruz a 'Hunger Games' Goodbye From the 2016 Presidential Race