This Artist's Response to "No Fats, No Femmes" Controversy Is Beautiful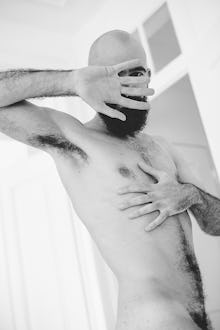 Photographer Adam Moco is confronting the exclusionary preferences found on gay hookup apps (think: "no fats, no femmes") and he's doing it with the help of subjects who have felt that discrimination firsthand — app users.
For the Canada-native's Bare photo series, Moco recruited a diverse team of models to pose for nude portraits, each subject illuminated only in natural and available light.
"Bare is a series of nude portraits exploring diversity in the male form through photography. Representing a wide array of subjects in exposed states, the project embodies the vulnerability and beauty of embracing one's Bare self," Moco wrote on his website.
"The 'no fats, no femmes' ideology is often used by gay men [on dating sites] situating their desires within a framework that excludes particular kinds of bodies, mostly those fat, feminine, disabled, HIV positive and the list goes on," Jamal Lewis, a filmmaker working on a documentary about such ideologies, told the Los Angeles Times earlier this week. "Anything that reminds them of what the world thinks it means to be gay, they shun away from. Put simply, it's prejudice masked as preference."
In a column for the Huffington Post, porn actor Dale Cooper wrote that body-shaming standards are all too common on gay dating apps and sites, where it's easy to go through endless profiles while being afforded "the relative protection of semi-private usage." 
Cooper goes on to list the inexhaustible ways Grindr users lay out their discriminatory preferences:
Too short, or too tall ("over 5'7" and under 6'1"), Asian ("not into rice," "gook free zone"), fat ("175lbs or less"), fem ("no broken wrists," "masculinity is not subjective"), black ("no chocolate," "All blacks, keep moving cuz I ain't interested unless u can prove not all blacks are the exact same mkay?"), not as hot as the profile owner, Latino, ugly, hairy, old ("no older than 30"), closeted, uncloseted, bisexual, not bisexual, not a college guy, not a jock, a fag, into the scene, a ginger, Catholic, Republican, not "musc," not "prof," not "VGL."
Each portrait is accompanied with audio of an interview with the subject discussing his body and body image.
Jose Nuno, Lisbon
"Why [do] I like to be naked? Well, I feel like the real me. Why not use my body to make art? I feel like my body is really a piece of art."
Joao, Lisbon
"In the summer, I go to the beach all naked with no problems. I don't have many problems with my body. When I was a kid, I used to look at the mirror. It's the body that I see growing up."
Max, Toronto
"We're in a community where you see a little bit of rolls, that's not desired, you see a little bit of flab or like the booty is not sitting just perfect and you know, that's not desired. We're all coming from something different and I just think bodies are so beautiful."
Martin, Lisbon
"You should not be ashamed of what you have or who you really are."
Head to Moco's website to see the full series. 
h/t Accidental Bear