Rachel Maddow Mocks Republicans With Slam Poetry Performance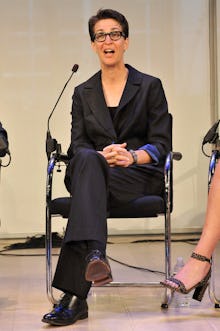 With the Donald Trump takeover of the Republican Party now all but complete, liberals have been feeling increasingly ...
Smug.
Perhaps none more so than Rachel Maddow.
The MSNBC host decided to dedicate part of her Thursday broadcast to review what Trump's former rivals and other GOP luminaries have said about him during his campaign and in the immediate aftermath of his triumph over Texas Sen. Ted Cruz and Ohio Gov. John Kasich.
"At this pivotal moment for the Republican party," she said. "I would like to honor their concerns the only way I know. By expressing them."
The whole skit was done in the style of impromptu slam poetry. 
Watch the full skit here.