For Mother's Day, Give Your Mom The Gift Of A $30,000, 3-D Printed Version Of You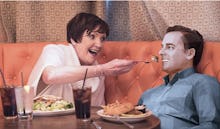 If you waited until the last minute to buy a Mother's Day gift again this year, there's great news for you: The gift that she'll cherish the most is a life-size, 3-D printed replica of you, and it's available now on Groupon for the low low price of just $30,000.
Your mother's dream gift comes courtesy of SWIGRO, the Alabama-based manufacturing company responsible for creating the largest commercially available 3-D printer, the BigRep One.
According to the Groupon listing, the $30,000 price tag includes up to $2,500 off the cost of travel to the printing facilities in order to complete the digitization process for your replica. The wide-eyed, vacant gaze of the dummy and it's cold, lifeless touch come, presumably, free of charge.
"Unlike busy adult children, life-sized 3-D printed models do not have hectic schedules. That means they're there when Mom needs them most: all the time," the listing reads.
According the Groupon, you can still "Be the First to Buy!" — meaning that apparently no one has decided to fork over the rough equivalent of a year's tuition at a public university in exchange for what the site refers to as a "reverse Dorian Gray [that] never ages and never stops smiling, even when it's watching your mother's favorite tearjerker or spending the night stashed in the broom closet."
Guess America's mothers will just have to settle for a card and a Yankee Candle again this year.
Read more: 7 Women Everyone Needs to Remember This Mother's Day