Ariana Grande's New Song "Into You" Is the Club Banger We've Been Waiting For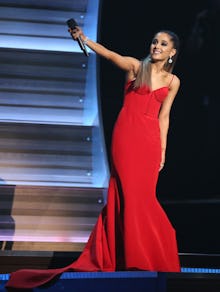 We're only two weeks away from the release of Ariana Grande's third studio album, Dangerous Woman, but fans are becoming even more impatient after she dropped her fourth single from the new album on Friday. The track is titled "Into You." 
Like the previous releases leading up to Dangerous Woman — the titular "Dangerous Woman," "Be Alright" and "Let Me Love You," which features Lil Wayne — Grande's new single maintains a steady, upbeat rhythm throughout. Its "new-age disco beats," as described by Entertainment Weekly, are sure to be played on repeat in clubs throughout the summer. There's a pretty catchy chorus, too: "A little less conversation, a little more touch my body/ Cause I'm so into you, into you, into you."
Understandably, fans are freaking out about her newest club banger on Twitter. 
May 20 can't come soon enough. You can listen to "Into You" below.
Read more: Ariana Grande's "Let Me Love You" Feat. Lil Wayne Leaks Online — And Fans Are Losing It